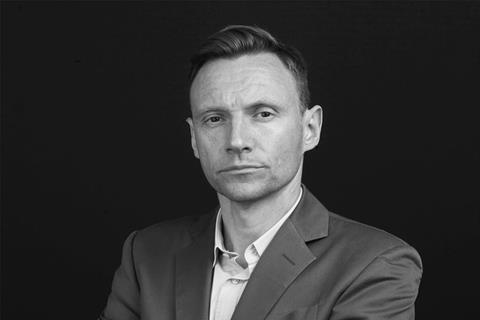 Zygi Kamasa, the newly appointed group CEO of Matthew Vaughn's London-based film and TV outfit Marv has outlined the company's commitment to UK production and raised the possibility Marv might eventually set up its own distribution arm.
"What we want to do is expand Marv studios beyond the typically very successful one film a year," said Kamasa. "Part of that expansion is to look at more opportunities in British film and expanding into British television."
Marv plans to make two to four films a year. The goal, said Kamasa, is to make "great British content."
Kamasa joined Marv in September from Lionsgate UK. "I've been a long-standing supporter of British films generally and I've invested in a lot of British films in my time," Kamasa said of his 20-year career at Lionsgate and previously at Redbus Film Distribution.
"That was one of the synergies I felt with Matthew Vaughn," he said. In the past 20 years Vaughn has produced UK films including Lock, Stock And Two Smoking Barrels and Snatch, both directed by Guy Ritchie, Dexter Fletcher's Rocketman and Eddie The Eagle (the latter was executive produced by Kamasa), and Vaughn's own directing projects including his debut Layer Cake, starring Daniel Craig and Sienna Miller, and the Kingsman films.
"All his movies have a British sensibility about them," suggested Kamasa. "We definitely want to continue to support British films."
The company's streaming ambitions were signalled in late November when Marv announced its partnership with Apple TV + on Jon S Baird's new project, Tetris: The Movie, starring Marv regular, Taron Egerton, set to shoot in Scotland in 2021.
"By British standards, that's a big-budget movie. Apple love the project. It's a perfect fit for them. They've taken global rights on that," Kamasa said of the film.
Meanwhile, the company announced its first foray into TV this week with 10-part series Day 1's, set in the world of English Premier League football. Entourage creator Doug Ellin and Chris Case are showrunners, with Vaughn directing the pilot and Thierry Henry set to star as himself. Shooting will begin in 2021.
Marv is also working with Disney/Fox on Vaughn's action-comedy prequel The King's Man.
Kamasa said Marv is open to partnering with Lionsgate on future projects. He retains strong relationships with company CEO Jon Feltheimer and chairman Joe Drake while Vaughn worked with Lionsgate on the US release of Kick-Ass in 2009.
Distribution
As an experienced distributor and marketing expert, Kamasa is expected to advise on release strategies for Marv projects. "We're not looking at theatrical distribution today. Will we in a year or two? Who knows?" he said. "Would we look at other distributing opportunities or self-distributing? We might…we will look at how our films can get to market quicker and [how] we can have more control and ownership."
Kamasa added he didn't yet know what form "self-releasing" might take. "It may be that we did our own theatrical release. It may be that we do our own pay -per -view release. What we are is entrepreneurial and agile and, because of Matthew's huge success, very well capitalised. He has invested really all of his wealth into Marv and therefore really wants to take it to the next level."
In spite of the growth of the streamers, the Marv CEO emphasised the importance cinema retains for the company.
"The world has changed so much this year. You have to make films for the right platform but, where we can, we absolutely want to make films for the cinema," Kamasa said.
The Marv CEO said he is committed to diversity and gender equality. Under his tenure at Lionsgate, the company recently supported films such as Coky Giedroyc's How To Build A Girl and Jessica Swale's Summerland. (Marv's first film to be directed by a woman is Camille Griffin's Christmas-themed comedy Silent Night, starring Keira Knightley, which is now in post-production. Vaughn has also collaborated frequently with screenwriter Jane Goldman.) 'We didn't pick them because they were women," said Kamasa of Giedroyc and Swale. "We picked them because they were great. We are keen to encourage [this} where I can. That means if their films get made, other women will say 'oh, I want to be a director.' We will look at all opportunities of [backing] young, aspiring, diverse, interesting filmmakers."
Kamasa is optimistic about the future of cinema. "I think there is going to be a real boom in 2021 in cinema. I think [cinema] is going to be a go-to destination. I can't wait to get back to cinema"
"Cinema will come back because it is an experience that you can't replicate at home," he continued. "What will happen I believe is that there will be demand for the very, very big movies, whether it's Star Wars, Jurassic World and hopefully Kingsman. At the same time, I think there will be a slightly more fragmented business but a very strong one for the right audience. If British independent producers can make films for the right audience, I think people will go to the cinemas to see those."
Independent sector
Two years on, Kamasa is philosophical about the achievements of the 2018 BFI Commission on UK Independent Film which he chaired. The commission delivered a report to provide practical support measures for independent producers, including a new EIS fund and a commercial development fund.
"It was a really valuable experience for all the industry to go through, to really review how to support independent cinema," he reflected. "There's a lot more that could be done, though. One of the difficulties which I think is a problem for any government organisation [the BFI] is that they have so many stakeholders to listen to that it is hard to effect change significantly.
"I was trying to come at it saying that we didn't want just to be this government body that goes to the government 'we just need more money.' We had to be self-financing in a way… the problem is that we almost need to have another six or 12 month review because post-Covid, it has got even worse.
"We were focusing on cinema. I think we have to open it up and look at how coproducers make great content for any format and how do we bring the streamers of this world to focus more on British independent film," Kamasa reflected