25 films comprise the main slate of 55th edition set to run from September 28-October 15.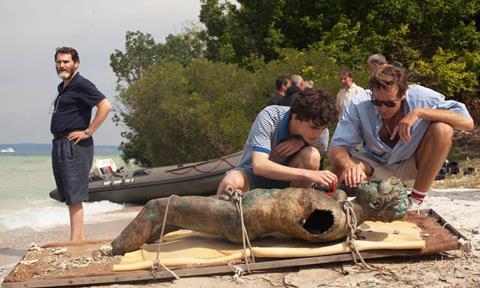 The Film Society of Lincoln Center has announced the 25 films for the main slate of the 55th New York Film Festival.
This year's selection showcases films honoured at Cannes such as Ruben Östlund's Palme d'Or-winner The Square, Robin Campillo's Critics' Prize winner BPM, and Agnès Varda and JR's Faces Places.
From Berlin, Aki Kaurismäki's Silver Bear winner The Other Side Of Hope and Agnieszka Holland's Alfred Bauer Prize-winner Spoor mark the returns of two New York Film Festival veterans, while Luca Guadagnino makes his debut with Call Me By Your Name (pictured).
As previously announced, the opening night screening is Richard Linklater's Last Flag Flying, while Todd Haynes' Wonderstruck is the Centerpiece, and Woody Allen's Wonder Wheel will close the festival.
NYFF Director and Selection Committee Chair Kent Jones said: "Every year, I'm asked about the themes in our Main Slate line-up, and every year I say the same thing: we choose the best films we see, and the common themes and preoccupations arise only after the fact."
"As I look at this slate of beautiful work, I could just make a series of simple observations: that these films come from all over the globe; that there is a nice balance of filmmakers known and unknown to many here in New York; that the overall balance between frankness and artistry holds me in awe; that there are two gala selections with the word 'wonder' in their titles; and that eight of the 25 films were directed by women."
The 55th New York Film Festival Main Slate:
OPENING NIGHT: Last Flag Flying, dir. Richard Linklater
CENTREPIECE: Wonderstruck, dir. Todd Haynes
CLOSING NIGHT: Wonder Wheel, dir. Woody Allen
Before We Vanish, dir. Kiyoshi Kurosawa
BPM (Beats Per Minute) (120 Battements Par Minute), dir. Robin Campillo
Bright Sunshine In (Un Beau Soleil Intérieur), dir. Claire Denis
Call Me By Your Name, dir. Luca Guadagnino
The Day After, dir. Hong Sang-soo
Faces Places (Visages Villages), dir. Agnès Varda & JR
Félicité, dir. Alain Gomis
The Florida Project, dir. Sean Baker
Ismael's Ghosts (Les Fantômes D'Ismaël), dir. Arnaud Desplechin
Lady Bird, dir. Greta Gerwig
Lover For A Day (L'Amant D'un Jour), dir. Philippe Garrel
The Meyerowitz Stories [New And Selected], dir. Noah Baumbach
Mrs. Hyde (Madame Hyde), dir. Serge Bozon
Mudbound, dir. Dee Rees
On The Beach At Night Alone, dir. Hong Sang-soo
The Other Side Of Hope (Toivon Tuolla Puolen), dir. Aki Kaurismäki
The Rider, dir. Chloé Zhao
Spoor (Pokot), dir. Agnieszka Holland, in cooperation with Kasia Adamik
The Square, dir. Ruben Östlund
Thelma, dir. Joachim Trier
Western, dir. Valeska Grisebach
Zama, dir. Lucrecia Martel.
NYFF Special Events, Spotlight on Documentary, Revivals, Convergence, and Projections sections, as well as filmmaker conversations and panels, will be announced in the coming weeks.