New facility is expected to open early next year; NFTS also partners with Mars for two £25k MA scholarships.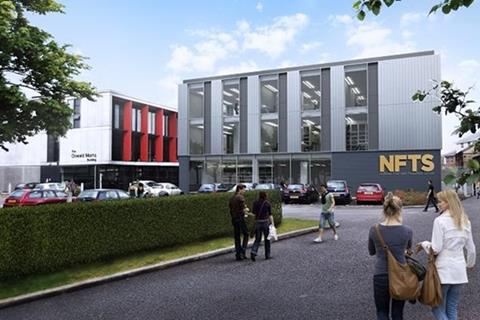 The National Film and Television School (NFTS) has secured £1.5m funding from Buckinghamshire Thames Valley Local Enterprise Partnership (BTVLEP) to build a new 4K-equipped studio.
NFTS said the proposed Digital Content Production Training Studio would be one of the most advanced facilities in the UK with the ability to shoot, record and stream live 4K content. It will be used to train the next generation of broadcast engineers, digital content producers, directors and craft professionals.
The studio is expected to open early next year to coincide with a new intake of students, including those on the recently introduced Production Technology MA which has been introduced by the NFTS to tackle a shortage of broadcast engineers and fill a skills gap in the industry.
Former BBC Scotland head of technology John Maxwell Hobbs has been appointed to lead the course which will commence in January next year.
NFTS director Nik Powell said: "We are incredibly grateful for the LEP's support and can't wait to get the new studio up and running.
"We are working with a range of partners to ensure that this project delivers key systems and tools so that our students start their careers with the skills and knowledge that broadcasters need and value.
"We have forged exceptional links with broadcasters thanks to the reputation and track record of the school and the graduates it produces."
BTVLEP chair Andrew M. Smith added: "We are delighted to be working with the National Film and Television School and supporting such exciting new talent.
"We want to enhance the creative industries sector and put Bucks on the global map as we are doing with other high profile institutions in our county such as Pinewood Studios.
"Buckinghamshire is already at the forefront of the creative industries and has the highest proportion of employment in this sector in the UK with over 16,000 jobs across 3,800 businesses."
This article originally appeared on Screen's sister publication Broadcast.
Scholarships
The UK's National Film and Television School (NFTS) is teaming with American manufacturing company Mars to offer two £25,000 scholarships for the school's MA programmes.
Students applying for courses commencing from January 2017 will be eligible for the scholarships.
The initiative is a part of the school's new partnership with creative agency AMV BBDO, which is launching a crowdsourcing platform, Flare Studio, that will allow the agency's clients to post briefs inviting students to submit ideas and to potentially be paid for selected work.
NFTS director Nik Powell said: "We are extremely grateful for Mars and AMV BBDO's support in giving our students this opportunity as well as the scholarship."
Said Ian Pearman, CEO of AMV BBDO: "Part of the platform's aim is to invest in the next generation of filmmakers by supplying grants and training, and we are excited to announce the Mars-NFTS scholarship as part of this endeavour."
The school is also launching a new Directing Commercials and Promos Diploma post-graduate programme, which is set to start in January 2017. Applications are open from October 13.