Norwegian director Roar Uthaug is preparing Scandinavia's first disaster movie, The Wave (Bølgen).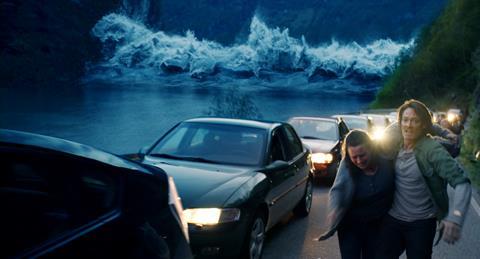 The film, budgeted at $7.9m (NOK50m), will depict a tsunami that is predicted to hit Norway at some point in the future.
There was a previous instance in 1934 when 2 million cubic metres of rock fell into Norway's Tafiord, triggering a 85-metre wave, which left 40 people dead.
Currently, a 700-metre crevice in the Åkneset Fjell, aka the Fjell of Death, expands by 10-15cm annually. This will eventually result in a rockslide, creating a tsunami in the fjord and destroying everything in its path before it reaches land in Geiranger.
"I have been fascinated by this event since I first heard about it six or seven years ago," said Norwegian producer Martin Sundland, of Fantefilm Fiksjon, which is making feature currently in post-production.
"It is scary that there is such a place in Norway where disaster will unavoidably happen again."
Filming on Norwegian locations and in Romanian studios, the cast include Kristoffer Joner, Ane Dahl Torp, Eili Harboe and Jonas Hoff Oftebro.
The script, about an experienced geologist (Joner) who finds himself separated from his family 10 minutes before he knows the disaster will take place, has been written by John Kåre Raake and Harald Rosenløw-Eeg.
The Wave will be released in August 2015 by Nordisk Film Distribution.
World sales will be handled by TrustNordisk.
Sundland, who previously produced Mikkel Brænne Sandemose's award-winning Ragnarok, said of the new film: "For one of the key scenes, we constructed a whole hotel corridor in a water basin, which was then demolished when hit by 40,000 litres of water.
"It must have been one of the most expensive scenes in Norwegian film history."
Uthaug's feature debut, Cold Prey (Fritt vilt), took 257,000 local admissions when released in 2006. His follow-up, Magic Silver (Julenatt i Blåfjell) took 370,000 in 2009.