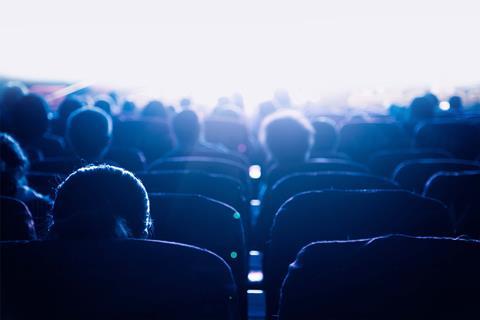 The near future of the global film and TV industries will be a boom time of creativity and growing hours of content, but will also see an industry in chaos, according to the 2020 Nostradamus report 'A Creative Explosion'.
The report was unveiled at the Nordic Film Market at the Goteborg Film Festival on Friday January 31.
"The next three to five years will be a time of creativity and chaos, with many artistic highs and unprecedented amounts of money invested in scripted content," said the report.
"A competitive and rapidly shifting marketplace will be dominated by the largest media companies the world has ever seen. But the technology is also pushing power back toward the talent, and offering new ways for smaller, nimbler participants in the audiovisual space to connect with audiences.
"The risks are as enormous as the opportunities. The pace of the content explosion is threatening quality, at the exact moment when audience tolerance for the mediocre, soulless, or bland is at its lowest. With the established industry already struggling to connect with younger viewers, our relevance relies on a successful diversification of talent before and behind the camera, of decision-makers, of access to investment. Progress is this area is rapid, and it is critical from a business perspective not to allow it to stall."
The annual report, written by media analyst Johanna Koljonen, looks into the future of the screen industries three to five years from now through research and interviews with industry experts. The report is presented with support from and in collaboration with Film i Väst, with additional support from Region Västra Götaland, Nordisk Film & TV Fond and Kulturakademin.
This year's report interviewees are:
Lars Blomgren, executive producer and head of scripted EMEA at Endemol Shine Group;

Anna Croneman, head of drama at SVT;
Leon Forde, managing director of Olsberg SPI;
Stine Helgeland, head of communications, strategic insight, and international relations at the Norwegian Film Institute;
Philip Knatchbull, CEO of Curzon;
Alexandra Lebret, managing director of European Producers Club; Fabio Lima, founder & CEO of Sofa Digital;
Alex Mahon, CEO of Channel 4;
Susanna Snell, head of audience insight at Finnish broadcaster YLE;
Bérénice Vincent, co-founder of Collectif 50/50 and co-founder of Totem Films.
The report explores seven key topics. Here are highlights of the interviews from each section:
Diversity beyond 50/50
Alex Mahon, Channel 4: "Thriving in this market is very clearly about making better decisions, and I don't think you can do that with a team of people who are all the same. We are getting to 50% of our top 100 as female. I'm also trying to move the organisation to 20% black Asian minority ethnic by 2023, and upping the social mobility across the organisation. And off the top of my head, we're already at about 11% percent on disability, and 8% on LGBT — exceeding our targets for these groups. But there's a lot left for us to do."
Anna Croneman, SVT: "When I started at SVT in 2017 we began to count, and it's visibly better now. Our weak points is female concept creators. Of episode directors and producers women are the majority, and there are more female leads.
On the feature film side we only counted last year. Without any strategy we had ended up with 51% female directors. We didn't send out a press release or anything, but it felt good to see the outcome confirmed. When it comes to ethnic diversity on series, we've taken some new initiatives: we've met with all film programmes in higher education on their recruitment challenges. And we are in continuous dialogue with the casting directors."
Philip Knatchbull, Curzon: "I think this is the time for young women to take control — of the world, basically. Diversity is coming from the empowerment of women, and I think that's really exciting. More than 50% of people we employ at Curzon are women. We pay the London living wage. We have a sustainability programme…"
After the streaming wars
Lars Blomgren, Endemol Shine: "Consolidation will continue… There will be fewer bigger players everywhere. I could well imagine that the five-six global streamers we're talking about now will ultimately only be three. And public service broadcasting, that's not going to lay down and die."
Susanna Snell, YLE: "Smart TVs will kill linear. You turn on the TV, and everything is apps. A real question is what YouTube's role will be on this platform. Will it become like what Yle TV1 has been in broadcasting, the primary source of factual programming and serious talk shows?"
Fabio Lima, Sofa Digital: "All [the services] will need a supply chain provider dedicated to curating, preparing, selling, and marketing content. A distributor with the same scalability that the platforms themselves have. We are pursuing that. In the future we might have more competition in aggregation, but there is plenty of space in the market — this is a collaborative business anyway. It is impossible for any single company, even with a lot of money, to do the best curation of everything being produced or developed right now. Impossible."
The 'Pain and Glory' of feature film
Alexandra Lebret, EPC: "When you are in Locarno, for instance, and see 700 people watching an unknown Indonesian film, you ask why we are not able to gather such an audience for our films? I think we need to clarify our relationships with the exhibitors and renew how we release films in cinemas."
Philip Knatchbull, Curzon: "Before, audiences were fed things in a certain way, with self-imposed censorship by the producer based on what they believed people wanted to watch. The quality of some films and TV series has gone up, because the filmmakers have been given the freedom to fully realise their potential, without the interference of executives."
Bérénice Vincent, Totem: "The audience is definitely less stupid than many people think. It wants to be nurtured with new voices, that's what people are waiting for. We experienced it with And Then We Danced, the film by Levan Akin. His name was still unknown by the international industry, and the film just worked, people were really moved by it — personally, politically and aesthetically. Or something like Grave [Raw], by Julia Ducournau: no-one knew her either and the film was a big success."
'The Irishman' in the window
Alexandra Lebret, EPC: "All films can't be released in the same way. I'm always using the example of this Spanish thriller. I had a choice between a deal with a distributor, not a very good deal, or a deal with another distributor who wanted to try a multiplatform release in France. I went with the multiplatform distributor and the digital release was super successful. I earned money for the first time, deriving revenue streams from the distributors. This shows the importance of having and retaining rights."
Philip Knatchbull, Curzon: "I think SVOD will eventually disappear. I know that's quite a bullish statement. But I see a world where it all becomes like an à la carte menu: you choose what you want to see, and just acquire it for that viewing. No borders, or subscriptions. Having said that, I'm a huge believer in memberships. We run a cinema membership scheme…In the future that membership will buy you tokens that you can apply in any way you want, on the VOD platform, in the cinema, or talent events."
Boom year problems
Lars Blomgren, Endemol Shine: "Production capacity is a massive challenge…it's really hard to find professional people. But it automatically follows that others will get a chance."
Leon Forde, Olsberg SPI: "We're still at the point where things are developing and shifting quickly but we do expect a continuation of strong content investment, strong consumer demand, and more internationalisation. Demand for content has risen rapidly in recent years and will continue to rise — not least because of ongoing growth potential in developing countries."
Insight as leverage
Alexandra Lebret, EPC: "It's important that all producers start to work with data, algorithms and AI tools in connection with the publication and promotion of their films and series online. We absolutely need to develop that and not be dependent on the SVOD platforms, which are dealing directly with the audience. That is something the EPC is going to explore."
Stine Helgeland, NFI: "Insight is increasingly the key to be able to make things and to get it out to the audience. If you don't know who actually sees your films or your series, it's a creative problem. Not because we want to tailor something to their taste necessarily, but because we need to have a vision of who is really interested in this thing that we are making, to keep a finger on the pulse. We don't talk enough about this, and it's not part of many funding schemes, in Europe especially. But I think we can do something that the producers cannot do themselves. We can do insight work, give them the tools to understand who the is audience and how they behave."
Fabio Lima, Sofa Digital: "The way that [financial technology] is evolving, the way blockchain might evolve soon, will create smarter ways to finance content. This is the interesting thing about the future: the power will be pushed to the talent."
A new conceptual landscape
Alex Mahon, Channel 4: "I believe that people will watch short form. The question is whether anyone is able to make a really successful business out of it? Often YouTube watch times I think are in excess of 20 minutes, so that not really short form either anymore."
Leon Forde, Olsberg SPI: "It's sometimes underappreciated [in the film industry] just how much economic value and creative potential there is in video games. It's enormous. We're seeing a lot of creativity, skills and technology from both sectors coming together. There's a really interesting creative and skills overlap between the two, and so much potential for the future."
You can read the full 70-page report here