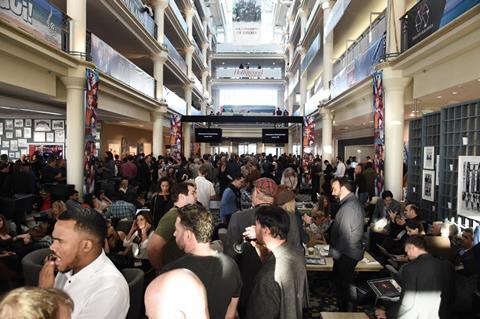 Los Angeles-based Octane Entertainment has launched female-driven sales and acquisitions division FAB, executives said on Wednesday (31).
FAB, an acronym for films which are For women, About women, and By women, aims to address the void in female representation and create a home for content powered by female, and those who identify as female, filmmakers.
FAB has kicked off talks with buyers in Santa Monica on an inaugural slate that includes: comedy Lady-Like starring Stephanie Simbari of Funny Girls; 1980s-set crime drama MDMA; nature survival drama Rust Creek; thriller Silencio; horror title The Ranger; and mother-daughter comedy Beautiful Darkness.
"It is no secret that not only are women disproportionally represented above-the-line but below-the-line as well," said Kristen Bedno, director of sales and marketing at Octane and creator of the FAB brand. "The fact that only one woman, ever, has been nominated for an Academy Award for cinematography shows us we have a long, hard journey ahead of us."
Bedno continued: "By creating a film brand that recognises the unique perspective that females bring to the creative process, we plan to showcase that talent and provide the international film audience with exceptional content created from a diverse female standpoint on a never-before seen scale.""As a female producer, when I heard about the new FAB brand by Octane Entertainment, I just knew that our film had found the perfect home," said Autumn Bailey-Ford, producer of the comedy Lady-Like. "FAB's vision to showcase films for, about, and by women aligns perfectly with the greater mission of the film and we couldn't be more eager to share this modern gem with audiences worldwide."
Lady-Like falls into the 1% of films where women dominate the screen for more than 90% of the time.
"One of the most beautiful rewards of filmmaking was the sense of tribe created," said Chinese-American filmmaker Angie Wang, who wrote and directed crime drama MDMA based on her own experiences. "I've been incredibly blessed with MDMA to have gathered the most loving and supportive family who have put their hearts and souls into the project. I am incredibly proud to expand this tribe with Octane and so thrilled to work with this talented and passionate group to introduce MDMA to international audiences."
"It's such a pleasure to be working with the team at Octane," said Rust Creek director Jen McGowan. "Our story is about a young woman who thinks becoming an adult is just about finding a job and an apartment and discovers to do so she first has to take on the whole damn patriarchy. It is an honor to be a part of the FAB initiative."
Lunacy Production's Stu Pollard added: "Rust Creek is a film with universal themes which will connect with audiences across the globe. We are very excited to be teaming with Octane Entertainment, who share all the principles we value in a partner. We look forward to sharing Rust Creek out to the rest of the world."
Lucy Barzun Donnelly (Grey Gardens), one of the producers of Beautiful Darkness, added, "We are delighted to be represented by Octane Entertainment and to have the film be a part of this exciting new brand putting women at the forefront."