The Lounge in Islington Square will feature in-theatre dining in all of its six-screens.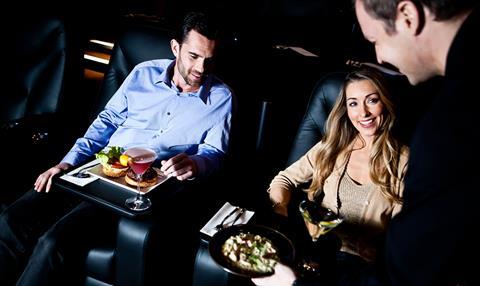 Odeon is set to open a new six-screen cinema as part of a North London property development.
The Lounge by Odeon in the new Islington Square, which will also feature housing and retail, will offer audiences an in-theatre waiter service providing three-course meals and drinks throughout the film.
Each screening room will comprised of no more than 40 reclinable seats and will offer more legroom than a conventional Odeon cinema.
The venue will be the second Odeon 'Lounge' site following Whiteleys in Bayswater [pictured], which opened in 2012.
The cinema will be part of a new £400m development by construction contractors Sager Group on the site of the former North London Mail Centre, and will also be comprised of 263 new homes, 108 apartments and retail and leisure facilities.
Architect Piers Gough of CZWG Architects is handling the project, which is titled Islington Square.
Construction is set to begin on the cinema in early 2017, with doors scheduled to open late in that same year.