Sales will begin at the American Film Market.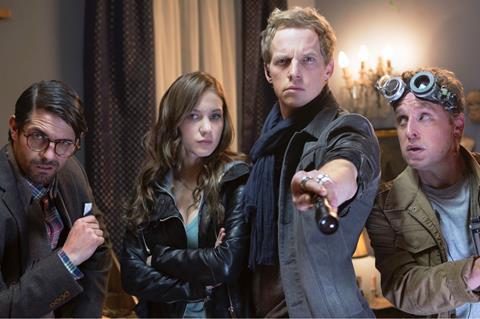 Odin's Eye Entertainment have acquired worldwide rights to upcoming horror-comedy feature DeadTectives.
Sales for the movie will begin at the American Film Market, which begins next week, with a trailer and scenes to be shown to distributors.
DeadTectives follows a team of hapless paranormal detectives on a reality TV series, who go on a quest to a haunted house in Mexico in order to get better ratings.
However, the house they find turns out to actually be haunted, and with no ghost-hunting skills they must find a way to escape with their lives.
The movie stars Chris Geere (Trollied, Waterloo Road) and Mexican actress Martha Higareda (Fuera del Cielo), and is helmed by first-time feature director Tony West (writer of The Soup).
The feature comes from El Chapo producer Daniel Posada and production company Bad Idea's Jason Tamasco and Jerry Careccio.
"I'm sure any buyer with a good sense of humor will respond to this film" Odin's Eye founder and CEO Michael Favelle said. "DeadTectives is a wonderful concept with strong sequel and TV/SVoD spin-off potential.
Bad Idea's Tamasco added: "I'm excited to be working with OEE who have the same passion and belief in the film as do the filmmakers.
"Having the privilege to work with upcoming director Tony West and Producer Daniel Posada has been one of my greatest experiences.
"We're all excited to get it out into the marketplace with a plan to expand the story even further. DeadTectives has always proved to be a fun and thrilling horror-comedy for me, and I can't wait for audiences to be able to enjoy and relate to it as I did."