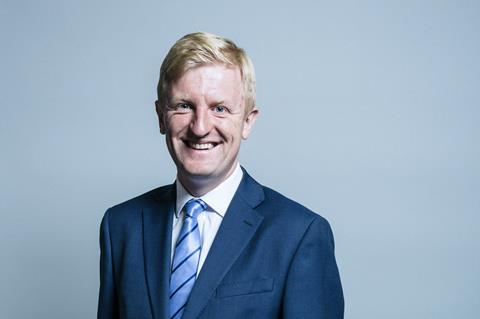 Maintaining the UK's Channel 4 as a publicly-owned broadcaster would be an "act of self-harm", Oliver Dowden will claim in a speech to the RTS Convention today.
The culture secretary is to deliver a speech to industry grandees at the Cambridge event this evening (15 September) in which he will set out the benefits of a change in ownership model, which he claims will help it deliver more "national moments" such as its coverage of the Paralympics and US Open women's tennis final.
"A Channel 4 with a protected remit and deeper pockets could bring us many, many more in the future," he will say. "If people disagree, then this is my challenge to them: please tell me how they'd intend to protect Channel 4 and the wider creative industries in a fairer, more sustainable way. Because standing still is not an option. In fact, it would be an act of self-harm."
Dowden, who oversaw the consultation process which closed at midnight, will say that his ambition is to cement the long-term future of the broadcaster.
"Right now, C4 is in a stable position. But I think too many people are fixated on C4's current situation. I'm much more concerned with its long-term future," he is to add. "I believe that if C4 wants to grow then at some point soon it will need cash. Without it, C4 won't have the money to invest in technology and programming, and it won't be able to compete with the streaming giants."
He will set out his belief that the investment it will require should come from private investors rather than the taxpayer. "It's my strong position - as a point of principle - that I do not believe the borrowing of a commercial TV channel should be underwritten by a granny in Stockport or Southend," he will says. "Instead, we can help it unlock that much-needed investment. And we can do so while protecting the parts of Channel 4 that none of us want to lose."
Dowden will go on to reiterate the government's commitment to maintaining C4's public service remit if it proceeds with a sale. These include a continued commitment to news and current affairs, commissioning programming from the indie sector and representing the entire nation.
He will rebuff claims that privatised C4 would dilute its content offering.
"Let me be clear: I do not subscribe to the false binary choice between public service content and privatisation. We can have both," he said.
His comments follow the closure of the DCMS' consultation yesterday (14 September).
This story first appeared on Screen's sister site Broadcast.