Sony score second number one in as many weeks as One Direction: This is Us debuts with $5.5m (£3.5m), including previews.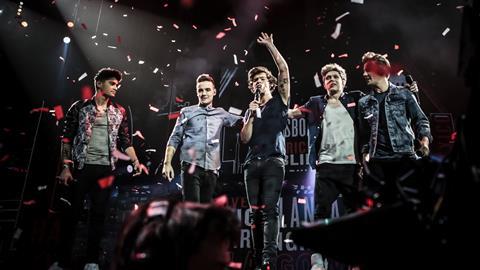 1D fever has hit the UK box office as Morgan Spurlock's One Direction: This is Us has landed top of the chart on its debut.
Sony's documentary scored a $5.5m (£3.5m) opening from its 477 sites, including $2m (£1.3m) in previews.
It could not quite match the opening of Michael Jackson's This is It, which debuted in Nov 2009 with $7.6m (£4.9m) from 498 sites, but it's worth noting that included a hefty $3.2m (£2.03m) in previews. The opening result for This is Us was also heavily skewed towards 3D screenings, with a 78% share.
Now it's just a case of seeing whether the One Direction film can top the $15.3m (£9.8m) generated by Michael Jackson's This is It to become the biggest concert documentary in the UK.
Completing a one-two top of the chart combo for Sony, last week's number one Elysium added $1.9m (£1.2m) in its second weekend.
Neill Blomkamp's sophomore outing is now up to $9.2m (£5.9m) in the UK as it attempts to chase down District 9's $14m (£9m) UK haul.
Also for Sony, sequels Grown Ups 2 and The Smurfs 2 are up to $11.5m (£7.4m) and $16.8m (£10.8m), respectively.
WARNER BROS
Posting a strong holdover, We're the Millers enjoyed a $1.7m (£1.12m) second weekend in the UK as it fell to third.
Warner Bros' comedy is now up to $6.3m (£4.1m) after ten days in play, although still has some way to go to match the $15.6m (£10.03m) achieved by director Rawson Marshall Thurber's only other UK release, Dodgeball: A True Underdog Story.
Meanwhile, The Conjuring scared up a further $363,000 (£232,705) for a strong $15.5m (£9.94m) to date and should cross the £10m mark later this week.
PARAMOUNT
Marking the distributor's first release since World War Z landed on June 21, Paramount's Pain & Gain charted fourth on debut.
The latest from director Michael Bay achieved a $1.6m (£1.02m) from its 392 sites, including $571,000 (£366,781) in previews.
Direct comparisons are tricky, given the film's somewhat niche appeal, but the film compares favourably with Bad Boys' $1.3m (£843,940) opening back in 1995.
DISNEY
Still going along nicely in the UK, Disney's Planes piloted its way to an extra $1.2m (£797,311) to stand at $9.1m (£5.9m) after three weeks in play.
Edging closer to A Bug's Life's $45.9m (£29.4m), Monsters University is up to $44.4m (£28.5m) through Disney after grossing $607,000 (£389,339) this weekend.
Also for Disney, The Lone Ranger looks unlikely to hit £5m as it currently stands at $6.9m (£4.4m).
FOX
Landing in sixth place on debut, Fox's coming-of-age comedy drama The Way, Way Back grossed a non-final $829,000 (£531,887) from its 307 sites, including previews.
Meanwhile, Percy Jackson: Sea of Monsters took $506,000 (£324,460) in its fourth weekend. The fantasy sequel has a running total of $9.8m (£6.3m) as it attempts to top Percy Jackson & The Lightning Thief's $11.6m (£7.4m) UK result.
Also for Fox, The Heat and The Wolverine are up to $11m (£7.1m) and $21.2m (£13.6m), respectively.
LIONSGATE
The long-awaited horror You're Next recorded a UK debut of $816,000 (£523,549) from its 318 sites through Lionsgate, including $265,000 (£169,997) in previews.
For want of a better comparison, stablemate (and equally delayed) horror The Cabin in the Woods was released last year on 414 sites, resulting in a $2.5m (£1.6m) debut, but arguably benefitted from a more established name in the form of Joss Whedon.
EONE
Fantasy adaptation The Mortal Instruments: City of Bones fell heavily in its second weekend, grossing $502,000 (£322,484) through eOne for $3.3m (£2.1m).
Also for eOne, 2 Guns is up to $5.9m (£3.8m) after three weeks in play, following a $482,000 (£309,380) from its 246 sites.
CURZON FILM WORLD
In its second weekend of release, Curzon Film World's What Maisie Knew added $94,000 (£60,091) from its 50 screens for a ten-day total of $361,000 (£231,859).
METRODOME
Released on 20 screens through Metrodome, Upstream Colour recorded a $37,000 (£23,500) debut at an average of $1,831 (£1,175).
UPCOMING RELEASES
This week sees saturation releases for Universal's About Time and eOne's Riddick, both released on Sept 4.
Peccadillo's Any Day Now receives a wide release, while Artificial Eye's The Great Beauty, The Works' Ain't Them Bodies Saints and StudioCanal's Pieta are among the films receiving a limited release.
Check back shortly for further studio results…