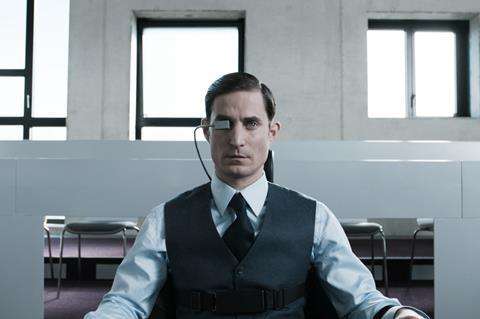 London-based sales boutique One Eyed Films has secured worldwide sales rights (excluding German-speaking territories) to Austrian sci-fi thriller Hidden Reserves.
After winning the Focus: Switzerland, Germany, and Austria Golden Eye award at the 2016 Zurich Film Festival, Hidden Reserves was awarded the Silver Skull for Outstanding Global Feature Film at the 2017 Morbido Film Fest in Mexico.
The film has also screened at festivals in Vienna, Neuchatel and Bucheon.
His first feature film since 2003's Kaltfront, German director Valentin Hitz sets the story against the backdrop of Vienna in a dystopian future where people must pay insurance in order to die. Those who fail to pay the cost of death insurance are kept alive by the government as vegetables used for data storage.
Clemens Schick (Casino Royale) stars as Insurance Agent Vincent Baumann, an emotionless man who has a change of heart about his job when he falls victim to the very organization he represented. He stars alongside German actress Lena Lauzemis (If Not Us, Who?).
Betina Goldman, managing director of One Eyed Films, said the film was: "A brilliant allegory of death, oppression, and modern economic servitude for our times."
One Eyed Films have previously secured the rights to Bubba The Redneck Werewolf (Dir. Brendan Jackson Rogers), Deadman Tells His Own Tale (Dir. Fabián Forte), and November (Dir. Rainer Sarnet), the Estonian nomination for Best Foreign Film at this year's Academy Awards.
Hidden Reserves is a co-production between Freibeuter Film, Dschoint Ventschr Filmproduktion AG, Neue Mediopolis Filmproduktion, and Cine Plus. Filming for the project took place in Vienna, Bratislava, Halle, Leipzig, and Berlin.