The excruciating mix-up overshadowed the rest of the show.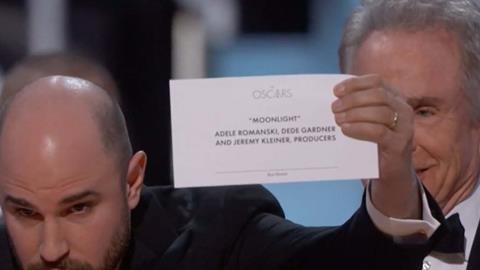 Hollywood stars have reacted to the shock finale of the 89th Oscars, where La La Land was accidently announced as best picture winner by Warren Beatty and Faye Dunaway, instead of the the actual winner, Moonlight.
Read more:
Oscars 2017: Full list of winners
Oscars best picture gaffe sends Academy into tailspin
Host Jimmy Kimmel made a valiant effort to smooth things over when he was closing the show, saying: "We hate to see people disappointed but the good news is we got to hear some extra speeches."
Moonlight director Barry Jenkins said two winners cards caused the confusion:
"I will say, I saw two cards, and so things just happen. I wanted to see the card, to see the card, and Warren refused to show the card to anybody before he showed it to me. And so he did. He came upstairs and he walked over to me, and he showed the card. Everyone was asking, 'Can I see the card?' And he was like, 'No, Barry Jenkins has to see the card, I need him to know.' And I felt better about what had happened."
La La Land Producer Jordan Horowitz, who was mistakenly on stage to collect the best picture Oscar, said: "Guys in headsets starting buzzing around. They took the envelope I had. It said Emma Stone in La La Land on it. It was clear there was something wrong. They started looking for the best picture envelope. Nobody knew where it was. Then it appeared. They opened it next to me and it said Moonlight, and so I grabbed it. I had to fix the situation."
On Twitter, reactions veered from jokes to sympathy for those involved.
Joseph Gordon-Levitt tweeted: "If you haven't seen Moonlight yet, don't let this #Oscars mixup overshadow things. See it. It's beautiful. Same goes for La La Land."
Actress Jessica Chastain said: "Why didn't the producers of the show rush to the stage when the wrong winner had been announced?! I feel bad for #lalaland producers AWKWARD"
"I'm also very sad for the MOONLIGHT crew. I wish that they had the full experience of winning best pic without the awkwardness of it all."
Quite a few people were making US election jokes, Billy Crystal for example: "Amazing ending. Wish that had happened on Election Day."
And Bill Maher: "Trump is tweeting right now, "Oscars are rigged. Very unfair!" Sad."
The best gag was possibly from M. Night Shyamalan, who said: "I wrote the ending of the academy awards 2017. @jimmykimmel we really got them!"
Family Guy creator Seth MacFarlane was also quick to react with pencil and paper:
Some more reaction:
Modern Family star Jesse Tyler Ferguson: Maybe I won an Emmy one of the 5 times I lost! Anything is possible. Congrats to #Moonlight. An amazing and deserving best picture winner!"
Bridesmaids director Paul Feig: "I'm mean … I just … that's the craziest thing I've ever been witness to. Huge congrats to Moonlight, which is fantastic. Wow."
Actor Josh Gad: "Wait a second. I'm traveling. How many movies just won best picture?"
TV presenter Larry King: "A great #Oscars spoiled by a bad envelope…#itsmy2cents"
Actress Elizabeth Banks: "That ending to the #oscars should win best picture next year. #holyshit congrats #moonlight"