Attila Till's action-comedy nominated in EFA Selection 2016.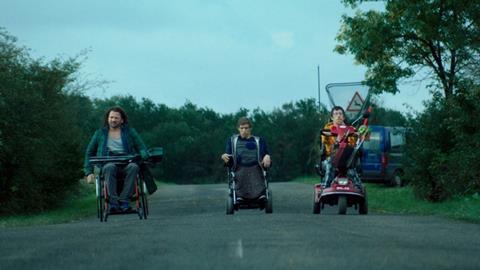 Hungary has selected Attila Till's Kills On Wheels as its Best Foreign Language Film submission for this year's Academy Awards.
The feature is based on two disabled teenagers who team up with a wheelchair-bound hitman.
Szabolcs Thuróczy (Golden Life, The Wednesday Child) leads an ensemble cast that also includes Zoltán Fenyvesi and Ádám Fekete.
The film recently made the European Film Academy's longlist for the 2016 European Film Awards.
Released in Hungarian theatres on April 28 by A Company Hungary, its international premiere was held at Karlovy Vary in July.
Till's first feature film Panic (Pánik) premiered in 2008 at the Hungarian Film Week, where it won Best Actress.
Kills On Wheels was written by Till and produced by Judi Stalter.
The director commented: "I have met several people in wheelchairs while I was volunteering with the disabled. These personal encounters inspired me to present a story about a wheelchair bound boy who is struggling with his own identity as much as with his environment and he finds a way to cope with life's challenges in his own extreme fantasy world".
"It was crucial to me to make a movie about disabled people where they finally aren't played by actors, but they get the opportunity to act themselves and be the real heroes."