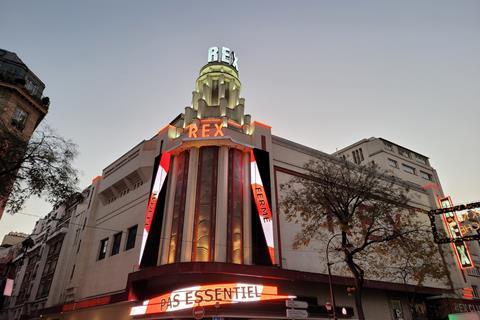 More than 800 key figures from the French cinema world have posted an open letter to president Emmanuel Macron in newspaper Le Monde, calling for the country's cinemas to be reopened.
Spearheaded by French directors' guild the Société des Réalisateurs de Film (SRF), signatories include filmmakers Jacques Audiard, Guillaume Canet, Claire Denis, Emmanuel Mouret, Chiara Mastroianni as well as actors Louise Bourgoin, Marion Cotillard and Pierre Niney.
The letter argues that the ongoing closure of cinemas as part of anti-Covid-19 measures no longer makes sense as a sanitary precaution because a number of leading scientific committees have ruled that cinemas and theatres do not pose a special risk for infection.
"Today, we can queue up to buy trainers or an ice-cream or cram into supermarkets or take trains, even when they're packed, but we cannot go to the cinema or to the theatre, even though the strictest and most trustworthy hygiene protocols have been in place since the first day of the lockdown," said the open letter.
France's 2,046 cinemas and their 5,193 screens have been shut since the end of October 2020. Plans to reopen them on December 15 for the busy Christmas and New Year period were ditched at the eleventh hour after Covid-19 cases failed to fall below 5,000 cases, the level stipulated by the government for them to reopen.
The letter continued: "Monsieur the president, we would like to emphasise something that public opinion may not be aware of, but which, even more seriously, you don't seem to know about either: the current nightmare facing the cinema industry and its workers. It's not just a case of an extremely difficult 2020, but something that will impact it for two, three years to come."
The letter comes amid a growing disquiet from all corners of France's cultural sector over the ongoing closure of public spaces, ranging from cinemas to theatres and museums.
A number of neighbouring countries are already setting potential reopening dates for the coming weeks and months such as May 17 for the UK and end-March for Italy, but the French government has yet to unveil its plans for cinemas in France.
In the backdrop, the Covid-19 situation in France remains complex.
The country has been averaging around 20,000 cases a day since December and there are infection hot spots in northern France, Paris and the Ile-de-France region, and the South of France, where fresh restrictions such as weekend lockdowns and curfews have been imposed.
The country's vaccination programme has also come under fire for its slow progress.
Prime minister Jean Castex is due to give a press conference on France's Covid-19 situation on Thursday (March 4), at which he is expected to announce fresh localised restrictions but also promise a return to normality from the end of April onwards.