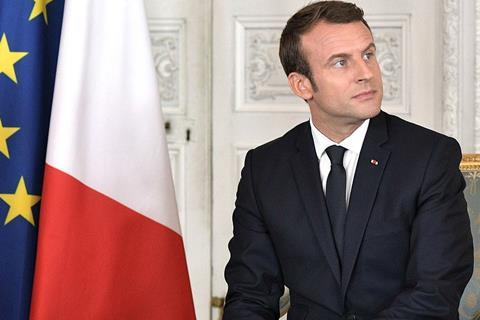 Pact is urging the British government to adopt France's model of forging a state-backed fund for film and TV productions that are unable to obtain insurance.
In its latest conversation with the Conservative party, the indie trade body pointed to France's €54m (£47.3m) Temporary Indemnity Fund – revealed last week by president Emmanuel Macron - as something the UK should ape as producers desperately attempt to get back up and running on their projects.
Pact is leading an industry taskforce on the insurance issue and has identified it as a number one priority to overcoming the damage inflicted by the Covid-19 lockdown.
Outlined by President Macron last week, France's temporary pot is open for applications from TV and film productions that fail to obtain insurance, and will issue funding on a case-by-case basis.
Macron has also increased the tax credits available for high-end scripted shows and films.
"If the government wants to get us back to work, then the production insurance issue has to be sorted," McVay told Broadcast.
"We're looking at various models but the best way to instil confidence is for the government to bring in a similar fund to the French sooner rather than later. This is just as important as social distancing or health and safety protocols."
McVay said the government has stepped in in similar ways in the past in areas such as flooding, acting as an insurer when insurance companies refuse to pay out.
His comments echo shadow culture minister Tracy Brabin's call last week for the government to become "insurers of last resort".
Brabin wrote to chancellor Rishi Sunak: "It will be extremely difficult for British production to restart and contribute to the economy if production companies are unable to obtain suitable insurance."
Boris Johnson's lockdown address last night could pave the way for more shows to return to production, as he insisted people who "cannot work from home" should return to work.
Speaking during an online Edinburgh session last week, super-indie bosses all indicated a desire to ramp up production as fast as possible, with Argonon chief executive James Burstall setting an ambitious restart deadline of 1 June.
However, McVay also said the industry will be hindered by the government's newly installed 14-day quarantine for anyone travelling to the UK, which was revealed over the weekend.
This story first appeared on Screen's sister site Broadcast.