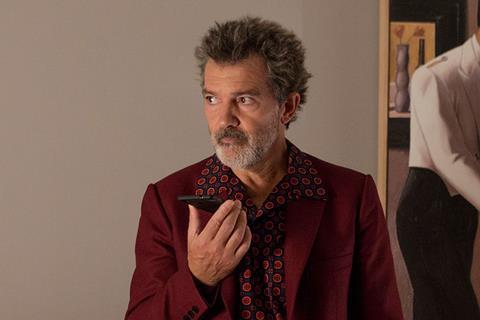 Pedro Almodóvar's Pain & Glory was the big winner at the Spanish Film Academy Awards in Málaga on Saturday night (25) with seven Goyas including best film, best director and best actor for Antonio Banderas.
With 17 and 16 nominations respectively, Alejandro Amenábar's While At War and Almodóvar's Pain & Glory started the night as the two favourites and the race looked close until almost the end, when Antonio Banderas went onstage to collect the Goya for best actor.
A moved Banderas – who had already seen his work recognised with a best actor award at the Cannes Film Festival last May and is nominated for an Oscar – said in his speech that three years ago to the day he had had a heart attack.
He added: "Now, I am not only alive, but feel alive too". He thanked Almodóvar for the eight films they have made together and underlined his admiration for "the commitment" the director has to his cinema.
Shortly after, Banderas was followed on stage by Pedro Almodóvar, who was named best director and also picked up the Goya for best film alongside his producing team at El Deseo: Agustín Almodóvar and Esther García.
Pain & Glory, a thinly disguised self-portrait from the Spanish director, also won for best original screenplay, best editing, best original score, and best supporting actress for Julieta Serrano.
Addressing the audience, Almodóvar stressed the need for public funding and support for "independent or auteur cinema in Spain, a cinema that risks extinction and needs protection."
It was clearly Almodóvar's night, but the Goya awards also acknowledged other contenders. Amenábar's take on the outbreak of the Spanish Civil War and the rise of dictator Francisco Franco to power, While At War, won five Goyas (supporting actor, art direction, production design, make-up, and costume design).
Another film focusing on the war and its aftermath, The Infinite Trench directed by the Basque trio Aitor Arregi, Jon Garaño, and Jose Mari Goenaga, won best sound and best actress for Belén Cuesta.
Oliver Laxe's Fire Will Come, which premiered in Cannes and won the jury prize in Un Certain Regard, won best cinematography and best new actress for Benedicta Sánchez.
Goya awards, main categories
Best Film
Pain & Glory (Pedro Almodóvar)
Best director
Pedro Almodóvar (Pain & Glory)
Best New Director
Belén Funes (A Thief's Daughter)
Best Original Screenplay
Pedro Almodóvar (Pain & Glory)
Best Adapted Screenplay
Benito Zambrano, Daniel Remón, Pablo Remón (Intemperie)
Best Actress
Belén Cuesta (The Infinite Trench)
Best Actor
Antonio Banderas (Pain & Glory)
Best Supporting Actress
Julieta Serrano (Pain & Glory)
Best Supporting Actor
Eduard Fernández (While At War)
Best New Actress
Benedicta Sánchez (Fire Will Come)
Best New Actor
Enric Auquer (Quien a hierro mata)
Best Cinematography
Mauro Herce (Fire Will Come)
Best Art Direction
Juan Pedro de Gaspar (While At War)
Best Director Of Production
Carla Pérez de Albéniz (While At War)
Best Editing
Teresa Font (Pain & Glory)
Best Original Score
Alberto Iglesias (Pain & Glory)
Best Sound
Iñaki Díez, Alazne Ameztoy, Xanti Salvador, Nacho Royo-Villanova (The Infinite Trench)
Best Special Effects
Mario Campoy, Iñaki Madariaga (The Platform)
Best Animated Feature
Buñuel And The Labytinth Of Turtles, by Salvador Simó
Best Documentary Feature
Ara Malikian una vida entre las cuerdas, by Nata Moreno
Best European Film
Les Misérables, by Ladj Li
Best Latin American film
La Odisea de los Giles, by Sebastian Borensztein.