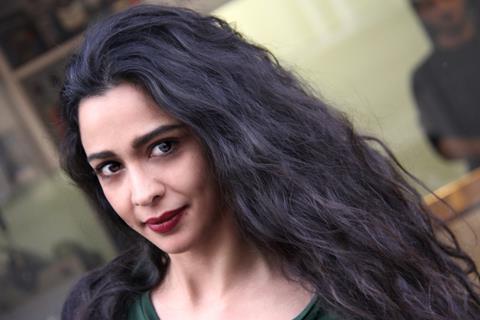 Palestinian actress Maisa Abd Elhadi was injured on Sunday while participating in a protest in the Israeli city of Haifa against Israeli police brutality and the planned expulsion of Palestinian families from their long-time homes in East Jerusalem.
A source close to the actress said she had been filming the demonstration on Haifa's central Ben Gurion Avenue when Israeli police moved in to clear the hundreds of protestors. She was hurt when a police stun grenade exploded on the back of her right leg.
"She's badly injured, but it's not life-threatening. She will get a very bad scar on her leg from behind with 20 stitches. At the moment she is at the hospital in Haifa, I spoke to her and she's in good spirits," said the source.
The Nazareth-born actress's recent credits include Palestinian 2020 Oscar submission Gaza Mon Amour by Arab and Tarzan Nasser, Sameh Zoabi's comedy Tel Aviv On Fire and Muayad Alayan's Jerusalem-set drama The Reports On Sarah and Saleem.
She is tipped to make it to Cannes this year with her roles in competition hopeful Huda's Salon by fellow Nazarene Hany Abu Assad as well as Jordanian director Bassel Ghandour's The Alleys, which is also angling for a debut somewhere on the Croisette.
The actress was last at the festival in 2016 in Maha Haj's drama Personal Affairs which premiered in Un Certain Regard.
Tensions have been high across Israel and the Palestinian West Bank and Gaza over the past week ahead of an Israeli Supreme Court ruling that could pave the wave for the eviction of a number of Palestinian families from their long-time homes in the East Jerusalem neighbourhood of Sheikh Jarrah.
There have been violent clashes between Palestinian protestors and Israeli police officers and soldiers in the Sheikh Jarrah neighbourhood as well as the Al-Aqsa Mosque in the Old City of Jerusalem over the past week. The violence has also spilled out into the West Bank and Gaza, where 24 people died overnight in Israeli airstrikes, which were launched in retaliation for rocket attacks by Palestinian militants.
The Palestinian populations of towns and cities within Israel's 1967 borders like Nazareth as well as in mixed Israeli-Palestinian cities like Haifa have also joined the protests, although demonstrations until now have been relatively peaceful.