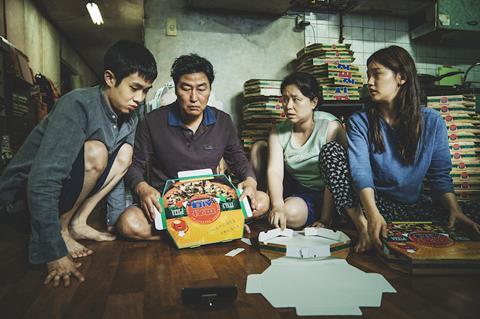 The 36th Jerusalem Film Festival (JFF, July 25 – August 4, 2019) will open with Bong Joon-ho's Parasite, which won the Palme d'Or at this year's Cannes Film Festival.
The film tells the story of a poor family whose members take turns infiltrating a wealthy family's mansion, a plan that quickly goes awry. After its Cannes triumph, the film has been a box office smash in its native Korea, taking a remarkable $62m to date, plus $4.5m in France.
Neon picked up North America rights and has set an awards corridor release for the title. Nachshon Films and Red Cape are teaming on the Israel release, which is scheduled for August.
Parasite will open this year's JFF on July 25 at the historic open-air Sultan's Pool venue.
At the opening event, Katriel Schory, the long-time head of the Israel Film Fund who is stepping down from his role after two decades, will be presented with a Lifetime Achievement Award.
Schory is currently transitioning his role to his incoming replacement, veteran producer and broadcasting executive Lisa Shiloach-Uzrad.
This year's JFF will screen more than 200 films from 60 countries. It will hold ten competitions for Israeli and international films with prizes totalling NIS 1 million ($278,420).
The festival will host a new pitching event in 2019 for independent Israeli short film screenplays in collaboration with Gesher Film Fund, with a prize worth NIS 250,000 ($79,000) awarded to the most promising project.
JFF is also launching a new offering to students that will include free admission to certain screenings and various other incentives, in collaboration with Jerusalem Development Authority.