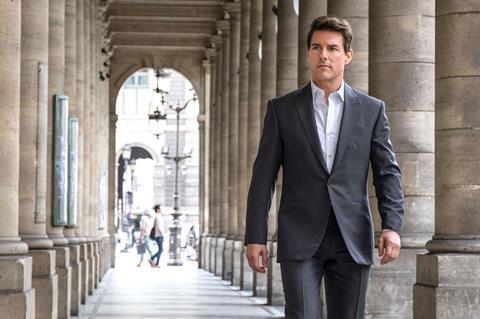 Mission: Impossible 7 is aiming to start shooting again in September, executive producer and first assistant director Tommy Gormley has revealed.
The latest instalment of the Tom Cruise franchise had been poised to kick-off filming for three weeks in Venice in northern Italy in February but the Covid-19 pandemic forced it to shutdown.
"We're hoping to start shooting again in September," Gormley told BBC Radio 4's Today programme on Tuesday. "We were days away from shooting in Venice. We were right in the epicentre when it all kicked off so we had to shut down.
"We hope to visit all the countries we planned to go to and do a big chunk back in the UK on the backlot and in the studio, so September through to end of April is our target and we are convinced that we can do this."
Gormley was speaking as part of a segment examining the UK's freshly announced guidelines for shooting safely in the era of Covid-19 which were unveiled by the British Film Commission on Monday.
He complimented the BFC and its chief executive Adrian Wootton on the work that had been done.
"I believe the guidelines are excellent," he commented. "I think Adrian and BFC have done a great job. We all have to get back to work, the tens of thousands of us in the film industry. We have to do it safely and protect our colleagues. It's definitely possible and we're working flat out to make it happen."
Gormley admitted shooting a feature on the scale of Mission: Impossible 7 would be complex in the era of Covid-19 but that the production would rise to the challenge.
"We are not a chamber piece movie. We do spectacle and that's what people expect of us. We're not going to change that. So, maybe, we are one of the more challenging films that are going to try and get up on their feet again. We are a multi-country movie, which has its own challenges, and with a giant crew.
"But to use an old expression 'How do you eat an elephant? One bite at a time.' We can do this. If we have the protocols in place, and we breakdown all the procedures very carefully, we will get back on top of it and we will get it going. Some things are going to be very challenging such as stunt scenes and crowd scenes. But you can't do a Mission: Impossible movie and not have a fight scene or a car chase in it."
He said that the production may resort to visual effects for large crowd scenes but that the overriding ambition was to return to the countries on the original schedule and shoot most the work using live action
"We're gonna try and still go to these countries and make it safe and do the filming. We're an incredibly agile industry. And actually, when you actually analyse it carefully we can do it."
He recalled his experiences working on JJ Abrams's 2009 Star Trek reboot which was shot partly in a brewery just outside of LA.
"We shot in a giant brewery complex for weeks and weeks," he said. "We had to wear goggles and ear protection and gloves and all the PPE because we were in a food factory and that's what we did and we didn't think twice about it. We just got used to it. I think we take that mindset, we're incredibly agile, and we're used to working in the most extreme situations, in the most extreme locations. We can basically tackle anything if we've prepared it carefully enough."
Paramount announced in April that it was pushed the release of Mission: Impossible 7 to November 19, 2021, from an original US release date of July 23, 2021.