12 projects are seeking European partners at this year's event.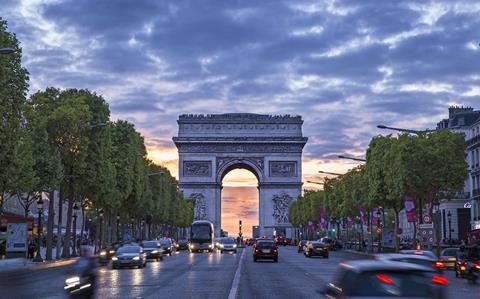 Colombian director Simón Mesa Soto - whose 2014 short film Leidi was a Palme d'Or winner - is causing buzz at this year's edition of the Paris Co-Pro Village (June 20-22) with his debut feature Amparo.
The film, about a mother's struggle to keep her son out of military service, is one of 12 upcoming productions being presented at the event.
Organised by the team behind the Les Arcs European Film Festival, the three-day Co-Pro Village is aimed at connecting international filmmakers and their producers with French and European partners.
Some 100 sales agents and producers are attending the fourth edition – taking place as one of the industry events of the Champs Elysées Film Festival — for one-on-ones with the film-making teams.
"More than half of the projects have fully-booked schedules," commented head of industry Jérémy Zelnik, who noted that Amparo was the most popular project in terms of meetings scheduled.
Mesa Soto, who graduated with distinction from the London Film School's MA in filmmaking, also had his 2016 short Madre play in Competition at Cannes.
Set in Colombia's second city of Medellin during the 1990s, when the conflict between government-backed paramilitary forces and left-wing guerrilla groups was in full swing, the film revolves around the titular Amparo, an impoverished single mother who is desperately trying to raise the money to buy a forged exemption paper to keep her son out of military service.
"It's a very personal story. It's a situation I lived through with my mother. I remember being so tough with her at the time and now I guess as an act of remorse, I am making this film about a mother for my mother," commented Soto.
The director, who is developing the script with the support of the Torino Film Lab programme, said the tale is a way of capturing how the lives of ordinary people were affected by the conflict, "I spend a lot of time writing and researching my characters and like to cast my roles from real life."
The director added that the lead role will most likely be played by someone he meets during this process. The shoot is scheduled for July 2018.
Swedish producer David Herdies of Stockholm-based Momento Film has already boarded the film alongside Mesa Soto's Medellin-based Ocultimo Cine and Bogota-based Evidencia Films, the joint company of compatriot director Franco Lolli (Gente De Bien) and Capucine Mahe.
A rare Japanese attendee
Other buzzy projects this year include Japanese director Ryota Nakano's The Asadas, inspired by the real-life tale of celebrated photographer Masashi Asada, whose life and work were changed forever after he got involved in relief efforts following the devastating earthquake that hit Japan in 2011.
The storyline revolves around his participation in an initiative to locate and restore family photos found in the ruins of homes and reunite them where possible with their owners.
"It's a heart-warming tale but like all my past films it will mix sadness and happiness," commented Nakano, whose previous credits include the family dramas Capturing Dad and Her Love Boils Bathwater.
Nakano, who was brought on board the project by producer Shinji Ogawa, is currently writing the script after months of research for a shoot in late 2018 and festival launch in 2019.
The project was invited to the Paris Co-Production Village as the winner of its €4,000 award for one participant at the Hong Kong Asia Film Financing Forum (HAF) in March, which goes towards the cost of attending the Paris event.
Nakano admitted it was unusual for a Japanese project like this to be looking for finance outside of Japan but that he had jumped at the chance to attend.
"We can be very insular in Japan but I think with this film it would be great if we could get an international partner on board to get another point of view about the storyline and what could work internationally as well as at home," he said.
The response to the project had been strong, said Zelnik. "A lot of people have been telling me this is their 'coup de coeur'," he commented.
UK participation
This year's edition also saw a rare UK project in attendance in the shape of Joseph Bull and Luke Seomore's Heaven Is Dark, a confined space film in the vein of Clash or Lebanon, about a group of refugees holed up in a shipping container as they attempt to enter mainland Europe.
It is lead produced by Duane Hopkins and Samm Haillay's Newcastle-based Third Films and executive produced by Alex Ashworth, who is head of production at Mad As Birds, which recently produced the Gerard Butler and Joe Alwyn-starrer Keepers.
It will be the second fiction feature for Bull and Seomore, after their 2014 drama Blood Cells. The pair have also made worked on a number of campaign films for NGOs such as UNICEF.
"A lot of what we do at Mad As Birds is mid-range and commercial but I also want to explore arthouse content too. Both the track-record of the producers and the work of the directors attracted me to this project," said Ashworth, who was in Paris with the directors.
Ashworth added that while art-house co-productions involving UK producers and European partners are relatively rare, Heaven Is Dark is a project that could lend itself well to such a structure due to the fact it will be shot in a studio and feature a multinational cast.
"I'm really here to see how we can work with European producing partners and put out feelers to sales companies," she said. "I feel there could be more support for a project like this in France."
The directors, she said, were currently mulling casting real refugees, from refugee acting troupes that have sprung up in the UK and France, and that the two main characters would most likely be French and English speakers cast out of France or Belgium.
The Paris Co-Production Village continues on Thursday (June 22) with more one-on-one meetings and a conference in the afternoon looking at co-production and shooting opportunities in Taiwan, which is the guest territory this year.