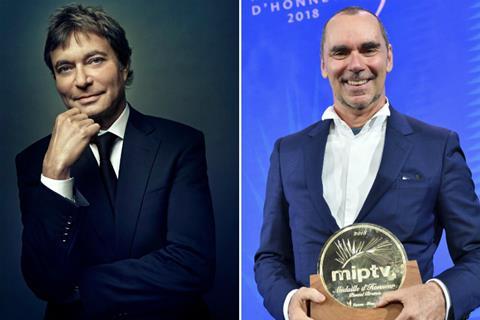 Former Lionsgate chief Patrick Wachsberger and Paris-based high-end drama producing supremo Pascal Breton took to the stage at MIPTV on Tuesday to discuss their new joint venture Picture Perfect Federation publicly for the first time.
The relationship brings Breton, who continues to produce under his company Federation Entertainment, and Wachberger, who launched Picture Perfect earlier this year, together on big-budget, event-style drama projects.
It was an energetic 30 minutes in which the seasoned TV executives also announced they had acquired the rights to French Egyptologist Christian Jacq's international best-selling series of five books Ramses.
Picture Perfect Federation will co-produce the high-end adaptation with Steve Golin's Anonymous Content.
Wachsberger explained the books revolved around the life of Ramses the Second, who reigned in Ancient Egypt from 1279 to 1212 BC and guided the country to the peak of its power.
"The books have some like 20 million copies worldwide and have been translated into absolutely every language," said Wachsberger. "We're partnering with Steve Golin at Anonymous Content who is now mostly concentrating on television."
"It's fantasy, adventure, a great character. We are very, very ambitious on this project. It's going to be an expensive series. We don't know yet how we're going to approach it, whether we're going to do a deal with a platform or distribute and break it down into the various territories."
"It's brand new and so exciting. We did a breakdown of the five books using one paragraph per chapter and we created a document of nearly 80 pages. When you read it, you say, 'My God, there are like five, six seasons, like Game Of Thrones and it's really, really exciting."
It is Picture Perfect Federation's second major production announcement after news on the eve of MIPTV that Wachsberger and Breton had jointly acquired rights to Allison Pataki's best-selling novels The Accidental Empress and Sisi: Empress On Her Own, about the unconventional 19th-Century Empress Elisabeth of Austria.
The company will handle worldwide distribution on the project with Michael Shamberg at MAS Production, who brought them the property.
Looking for the "new Romy Schneider"
The historic figure was previously immortalised on the big screen by Romy Schneider in Ernst Mariscka's 1950s trilogy of features Sissi, Sissi, The Young Empress and Sissi: The Fateful Years of An Empress, which remain a Christmas staples for European broadcasters to this day.
"The first Sissi was so impressive with Romy Schneider, we will try to find the new Romy Schneider," said Breton.
"What's great about this biography is that we can expect at least two or three seasons. She was so young and had such a dramatic and romantic life… it's a great brand. It's all about finding the writer and the actress, which is not an easy one."
Wachsberger highlighted the fact that both books were on the New York Times Best Seller List and the modernity of the empress's character.
"When you read those books, you realise she was a very modern woman. This is something that really attracted us," he said. "The ambition is to do something like The Crown. We have some pretty exciting writers in mind. We're not going to mention it yet because the deal is not closed."
Keeping control
Wachsberger and Breton said that again they had not decided whether to pursue a deal with a streamer or finance and distribute the project across individual territories.
"It will be a mix. For a lot of our projects, we try to pre-fund them out of Europe first because it's much more exciting for the producer to own some rights and then to sell to a SVoD. This one would be a perfect example. The IP for Sisi is huge in Germany and quite strong in France and Germany. There is potential there to find at least half of the show and then to make an interesting deal with one of these many platforms."
Wachsberger added that it was important to both him and Breton to retain as much control of a project as possible and to develop it alone for as long as possible.
"We want to control as much rights as possible and we're willing to take some risk in terms of deficit. Everyone is using the word disruptive and yes we're planning to be disruptive in our approach to financing and putting together all our series," he said.
"The other thing that is important to us is that we're very flexible. There is not one model. Anything can happen."
Talking in more detail about how they plan to work together, Breton said the plan was to focus on big budget projects like Ramses.
"With Patrick, we'll focus on the huge ones, like find us the good way to finance Ramses, which is crazy. It's probably more than $100m," he said. "We're working on many other properties which will be announce soon."
Breton added there was also scope for collaboration on the reformatting for the US market of existing properties Federation Entertainment had worked on in the past. He revealed, for example, that they were currently mulling a US remake of German high-finance thriller Bad Banks.
"It will be a mix and we're very flexible. Patrick will come with some of this talents and some very good properties and ideas and we will come to him."
Individual Federation Entertainment projects
On an individual level, Breton noted that Federation Entertainment was also currently working on the $30m production Around The World In 80 Days for the new European broadcaster alliance involving France Televisions, Italy's Rai and Germany's ZDF.
He revealed the company was also developing a new drama series revolving around the life of iconic French actress Brigitte Bardot, which he would try to finance in the first instance with the French broadcasters.
"It will be in French. We thought this one can only be in French. I am very close to financing the whole show," he said.