Fox's 3D animation records $6.4m (£3.9m) debut, including previews, to dethrone The Wolf of Wall Street; StudioCanal's RoboCop arrives with strong $4m (£2.41m) bow in second.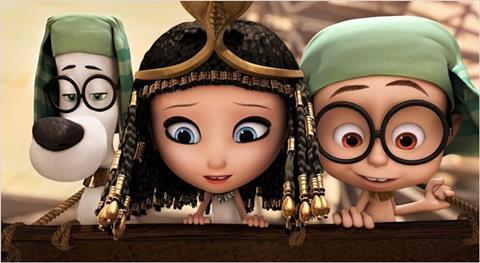 The half term arrived early in UK cinemas this weekend as Mr. Peabody & Sherman prevented The Wolf of Wall Street from four weeks as the UK's champion.
Fox's 3D animation recorded a $6.4m (£3.9m) debut, including $2.3m (£1.4m) from last weekend's previews. Even without these previews though, its Fri-Sun tally of $4.1m (£2.5m) would have seen it top the chart.
The debut compares favourably to the last DreamWorks Animation release Turbo, which also posted a $6.4m (£3.9m) opening but had a larger preview share at $2.9m (£1.8m).
Turbo went on to gross $19.3m (£11.8m) in the UK and with the upcoming school holidays, Mr. Peabody & Sherman should be able to challenge that even with the direct family competition of The Lego Movie.
Found footage horror Devil's Due is up to $3.4m (£2.1m) after four weeks in play.
STUDIOCANAL
Narrowly behind Mr. Peabody & Sherman based on Fri-Sun alone, RoboCop got off to a strong start in the UK as it charted second.
StudioCanal's reboot commanded $4m (£2.41m) from its 421 sites at a healthy average of $9,388 (£5,727), with 14.45% of its debut coming from IMAX screens. That ranks as the distributor's second biggest opening weekend, behind Tinker Tailor Soldier Spy's $4.6m (£2.8m) from 383 sites.
While that debut is just behind Total Recall's $4.1m (£2.5m), that opening came from more screens (464) and included $1.6m (£958,506) in previews. RoboCop's bow is comfortably ahead of Total Recall's Fri-Sun tally of $2.5m (£1.5m).
Without direct competition opening this week, RoboCop could prosper in the half term and should challenge Total Recall's final UK result of $9.3m (£5.7m).
Now in its third weekend, Inside Llewyn Davis grossed $311,000 (£189,783) from its 179 sites for $3.4m (£2.06m) to date through StudioCanal.
WARNER BROS
While they won't count in this week's official chart, The Lego Movie has already built up $3.2m (£1.97m) in the UK thanks to nationwide previews on Feb 8 and 9 through Warner Bros. It puts the well-received animation in a formidable position to top the chart this coming weekend.
Having crossed the £30m mark in the UK last week, Gravity added a further $202,000 (£123,000) for a sensational $49.5m (£30.2m) to date.
The Hobbit: The Desolation of Smaug is up to $70m (£42.7m).
UNIVERSAL
Despite dropping to third, The Wolf of Wall Street fell just 33% in its fourth weekend on its way to $2.6m (£1.6m) through Universal.
Martin Scorsese's latest is now up to an excellent $29.1m (£17.75m) in the UK, with a result above £20m all-but guaranteed. The only question remains is if the biopic can overhaul Hannibal's $35.5m (£21.6m) to become the UK's highest grossing 18-rated film of all time.
Also for Universal, Lone Survivor fell almost 50% in its second weekend to add $634,000 (£387,000) for a ten-day tally of $2.7m (£1.63m). It's tracking behind The Kingdom which stood at $3.2m (£1.9m) at the same stage in its run.
Last Vegas has amassed $11.3m (£6.87m).
EONE
Dallas Buyers Club charted fourth with a superb debut of $1.8m (£1.1m) from 296 sites.
eOne's based on real life drama posted an average of $6,026 (£3.672), recording director Jean-Marc Vallée's best-ever UK debut ahead of The Young Victoria's $1.7m (£1m) bow from 401 sites.
As predicted, 12 Years a Slave has now crossed the £15m mark in the UK through eOne. Steve McQueen's latest grossed a further $1.5m (£890,507) to climb to a terrific $25.3m (£15.4m) after five weeks in play.
That Awkward Moment posted a second weekend of $787,000 (£490,239) in the UK for a running total of $3.1m (£1.9m).
DISNEY
Falling to sixth in its tenth weekend, Frozen added $848,000 (£517,332) through Disney for $60.8m (£37.1m) to date. The sing-along version provided just under $107,000 (£65,000) this weekend.
The Oscar-nominated animation will have to rely on a strong half term in a now-crowded market to have a chance of £40m in the UK.
ENTERTAINMENT
Awards contender American Hustle enjoyed a $465,000 (£283,708) eighth weekend (sixth nationwide) for $21m (£12.8m) to date through Entertainment.
Also for Entertainment, I, Frankenstein dropped heavily in its second weekend to add $254,000 (£154,942) for $2.1m (£1.3m), while August: Osage County is up to $2.7m (£1.7m) following a $186,000 (£113,607) third weekend.
PARAMOUNT
Crossing £3m in its third weekend, Jack Ryan: Shadow Recruit added a further $426,000 (£260,000). Paramount's spy reboot is now up to $5.1m (£3.12m) in the UK.
LIONSGATE
Released in 51 London sites through Lionsgate ahead of a nationwide expansion from Feb 21, The Invisible Woman recorded a sturdy $216,000 (£132,021).
That's behind director Ralph Fiennes' debut offering Coriolanus which started its UK run with $278,000 (£169,308), but it's worth noting that it was opened in over double the sites at 121.
Also for Lionsgate, The Railway Man has journeyed to $8m (£4.9m) while, unsurprisingly, Out of the Furnace recorded a hefty drop in its second weekend, taking $29,000 (£17,683) from 89 sites for $517,000 (£315,616).
UPCOMING RELEASES
A busy release window this week sees saturation releases for StudioCanal's Cuban Fury, Fox's The Monuments Men, Entertainment's Her, Universal's Endless Love and Warner Bros' The Lego Movie following its previews on Feb 8 and 9.
Disney's Tinker Bell and the Pirate Fairy receives a wide release, while Artificial Eye's Bastards and iFeatures' 8 Minutes Idle are among the films receiving a limited release.