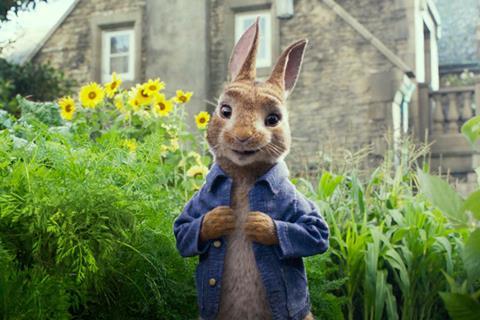 | Rank | Film / Distributor | Weekend Gross (Fri-Sun) | Running Total | Week |
| --- | --- | --- | --- | --- |
| 1 | Peter Rabbit (Sony) | £7.24m | £7.24m | 1 |
| 2 | Tomb Raider (Warner) | £2.55m | £3.08m | 1 |
| 3 | Black Panther (Disney) | £1.9m | £42.78m | 5 |
| 4 | The Greatest Showman (Fox) | £1.05m | £38.99m | 12 |
| 5 | Red Sparrow (Fox) | £588,194 | £5.28m | 3 |
Today's GBP to USD conversion rate - 1.40
Sony
Despite potential disruption caused by the Mini Beast snowstorm that made its mark across the UK this weekend, Peter Rabbit landed a superb £7.24m opening from 599 sites for a robust average of £12,087.
The film impressively held more than a 50% market share, despite the opening of Tomb Raider and the continued popularity of Black Panther.
For comparable family titles, that's higher than the UK bows of Paddington (£5.13m), The BFG (£5.3m), Coco (£5.25m) and Zootropolis (£5.32m), and not too far shy of Paddington 2 (£8.26m).
For a non-holiday weekend, the numbers are particularly significant, with the film's softer Friday bow of £960,000 boosted by a huge £3.3m Saturday and a £2.9m Sunday. Sony will be looking for the film to be the big family title of Easter this year, with the holidays less than two weeks away.
Warner Bros
Alicia Vikander-starring Lara Croft reboot Tomb Raider scored a £3.08m opening from its 570 sites, including previews, for a middling site average of £5,404. The Fri-Sun gross was £2.55m.
That's a little under the debut of the Angelina Jolie-starring Lara Croft: Tomb Raider, which opened to £3.85m in July 2001. That film ended on £12.82m and Warner will be hoping an improvement in the weather could take the Vikander version to a similar total.
In its third weekend, Game Night added £539,000 for a cume total of £3.65m.
Disney
Black Panther fell off the top spot in its fifth weekend, dropping 36% this weekend with £1.9m taking it to a running total of £42.78m. That moves it past the lifetime of Guardians Of The Galaxy Vol.2 (£41m).
Coco is up to £18m after adding £190,000 this weekend.
20th Century Fox
The Greatest Showman was down 33% this weekend with £1.05m. Now 12 weeks into its run, that's the film's biggest drop outside of the week of The Beast From The East, which severely affected the entire box office. The film is now up to £38.99m.
Red Sparrow held a place in the top five in its third weekend, falling 50% with £588,194, which puts it up to £5.28m to-date.
The Shape Of Water dropped 48%, adding £289,479 for £6.98m to-date. In terms of director Guillermo Del Toro's previous releases, the film is creeping up on the gross of Hellboy II: The Golden Army (£7.59m), but remains adrift of Pacific Rim (£8.2m) and Blade II (£9m).
In its tenth week, Three Billboards Outside Ebbing, Missouri dropped 42%, adding £208,917 for £14.38m to-date.
Universal
Lady Bird fell to seventh in the chart, posting £292,887 for a cume of £4.7m to-date.
Mary Magdalene, starring Rooney Mara as the titular biblical figure and Joaquin Phoenix as Jesus, opened to £238,602 this weekend from 423 sites for a meek-looking average of £564 - the film's involvement in the Weinstein Company fallout has led to a less than smooth landing.
EONE
Finding Your Feet added £284,987 this weekend and is now up to £4.44m.
I, Tonya is now up to £3.29m after adding £205,412.
Curzon
Ruben Ostlund's Palme d'Or-winning The Square opened with a healthy-looking £218,728 (including £63,718 in previews) from its 56 sites, an average of £3,906. That's a significant improvement on Ostlund's previous film Force Majeure, which opened to just £87,398, eventually ending on £593,432.
A Fantastic Woman is now up to £239,530.
Eros International
Hindi language crime drama Raid opened to £83,414 from 51 screens, an average of £1,636.
Sky Cinema
Monster Family added £33,608 this weekend and the day-and-date release is now up to £288,610.
STXinternational
Gringo added £24,138 and is up to £386,234 cume.
Thunderbird
Sweet Country added £12,867 and is up to £62,034.
Altitude
Loveless is up to £306,600 after adding £1,725 this weekend. The film is now Andrey Zvyagintsev's biggest ever UK release, topping 2004's The Return (£305,000. It's also the third-biggest Russian language film ever released in the UK, behind only Russian Ark (£471,000) and Night Watch (£708,000).
On the horizon
This week sees Disney's A Wrinkle In Time enter the market, where it will battle with Universal's Pacific Rim: Uprising and 20th Century Fox's Unsane.