Petite Maman, the latest film from Girlhood and Portrait Of A Lady On Fire director Céline Sciamma, has scored consistent marks on the Screen jury grid for an average of 2.6.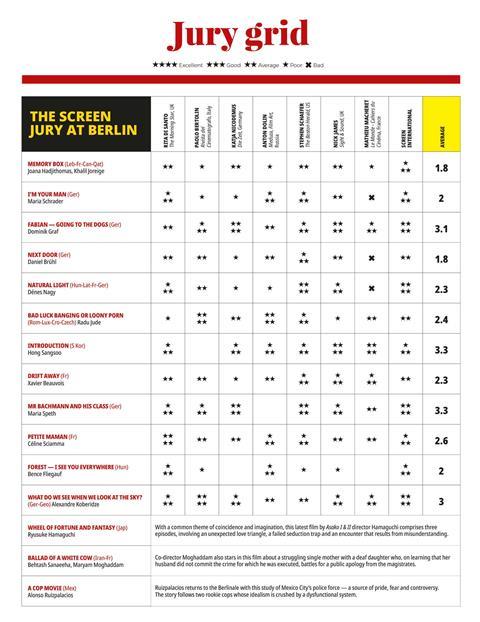 Petite Maman received no scores lower than a two (average), although that was its modal score with four critics making that choice.
It did receive one four (excellent) from The Morning Star's Rita Di Santo; and currently sits in fifth place with three of the 15 films still to score.
Sciamma's film centres on eight-year-old Nelly, who has just lost her grandmother and is helping clean out her mother's childhood home, when she strikes up a relationship with a girl her own age who she meets in the woods.
The film's 2.6 score is down on the 3.1 recorded by Portrait Of A Lady On Fire on the 2019 Cannes jury grid.
Alexandre Koberidze's German-Georgian co-production What Do We See When We Look At The Sky? produced a decent response from the grid critics, also with no scores below two and an average of 3.0.
Rivista Del Cinematografo's Paolo Bertolin and Screen's own critic gave it four stars, with threes (good) from Die Zeit's Katja Nicodemus, Sight & Sound's Nick James, Le Monde/ Cahiers du Cinéma's Mathieu Macheret and Di Santo.
A romantic tragicomedy with magical elements, the film centres on a young man and woman who meet on the street and fall in love; but after agreeing to hook up the next day, they wake up with completely changed appearances.
Bence Fliegauf's Forest – I See You Everywhere was the third new title on the grid, taking a 2.0 average from the six scores it has received thus far.
The follow up to 2003 Berlinale best first film Forest split opinion, with three critics (The Boston Herald's Stephen Schaefer, Bertolin and James) awarding it one star (poor), in contrast to three (Meduza/ Film Art's Anton Dolin, Di Santo and Screen's critic) giving it three.
The film is an experimental ensemble drama offering a visceral portrait of Hungarian society.
The final three films to land on the grid are Alonso Ruizpalacios' A Cop Movie, Ryusuke Hamaguchi's episodic Wheel Of Fortune And Fantasy, and Behtash Sanaeeha and Maryam Moghaddam's single mother drama Ballad Of A White Cow.