Dea Kulumbegashvili, Maya Dreifuss also scoop awards from Jerusalem lab.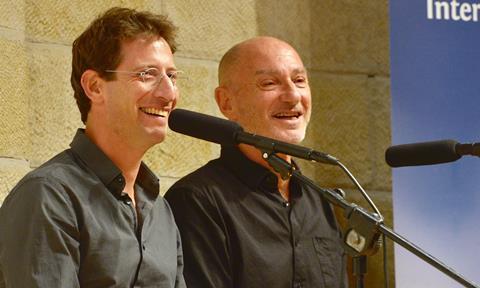 Israeli actor-filmmaker Pini Tavger's debut feature Pinhas has won the top $50,000 prize at the final pitching event of the 6th edition of the Sam Spiegel International Film Lab.
The tale of a young Russian immigrant coming to terms with life with his single mother in a small Israeli town is produced by Haim Mecklberg of 2-Team Productions, whose recent credits include Elite Zexer's Sand Storm, which won the Sundance World Cinema Grand Jury Prize in 2016.
"The presentation of Pinhas provided the jury with a powerful experience: a fascinating, sensitive and conflictual script based on semi-autobiographic hardships beautifully presented through a scene for the upcoming film," said Hengameh Panahi, Celluloid Dreams founding chief and Sam Spiegel jury chair.
It is Tavger's first feature after two short films: 10 Weitzman Street and Pinhas, which sowed the seeds for the feature. He also directed a segment of the 2012 Israeli-Palestinian portmanteau film Water. Tavger's acting credits include roles in Margarethe von Trotta's Hanna Arendt and Atlit.
The multi-layered Pinhas is a semi-autobiographical tale revolving around 12-year-old Pinhas, whose secular mother Tamara falls for charismatic religious neighbour Shimon. He is forced to abandon the relationship when his family pressures him to marry a religious woman. This rejection is felt keenly by Pinhas who had come to regard him as a father figure.
The $20,000 second prize was shared between Georgian filmmaker Dea Kulumbegashvili's religious dogma drama Naked Sky and Israeli director Maya Dreifuss's feminist detective tale Highway 65.All prizes were sponsored by the Beracha Foundation.
Naked Sky revolves around a failed writer who runs to his native village and embarks on an affair with a Jehovah's Witness woman, which in turn sparks a religious war.
Like Kulumbegashvili's previous films Invisible Spaces and Lethe, which played in Official Selection at Cannes and the Directors' Fortnight, Naked Sky will shoot in the director's native town and feature a professional and amateur cast. It is produced by Rati Oneli of Office of Film Architecture (OFA).
Maya Dreifuss's intriguing psychological thriller Highway 65 revolves around a tough-talking policewoman who becomes obsessed with the case of a missing woman when she is posted to Afula.
The other jury members included European Film Market president Beki Probst, Locarno Film Festival chief Carlo Chatrian, Canal+ acquisition executive Laurent Hassid, producer Cedomir Kolar, Israel Film Fund chief Katriel Schory and Vincenzo Bugno, the head of the Berlinale's World Cinema Fund.
Student prizes
In separate news related to the Sam Spiegel Film & Television School, which organises the lab, the Jerusalem-based institution also announced that Ruthy Pribar had won its second $100,000 Samuel Spiegel Alumni Fund for her upcoming feature Asia.
The prize was launched in 2015 in association with French producer and distributor ARP Selection, which funds half the prize.
Asia revolves around a 35-year-old woman called Asia who is coming to terms with motherhood as her terminally ill teenage daughter approaches death.
The project is being presented at the Jerusalem Film Festival's Jerusalem Pitch Point co-financing event on Sunday.