Disney's Tomorrowland: A World Beyond is the week's highest new entry, narrowly edging out Fox's Poltergeist.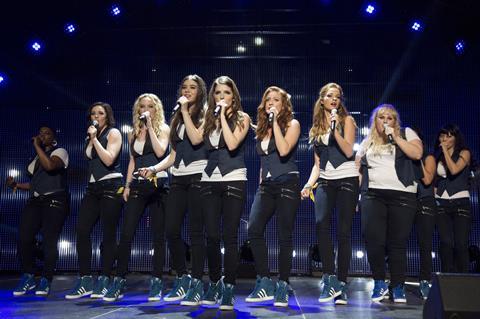 UNIVERSAL
Having surpassed its predecessor after just five days of release, Pitch Perfect 2 again held off Mad Max: Fury Road to retain top spot at the UK box office.
Universal's sequel added $4.11m (£2.66m) over Fri-Sun and, including Bank Holiday Monday [May 25], is up to $16.3m (£10.58m). It will likely continue to pull in the crowds over this half term week, and could be on the cusp of £15m by this weekend.
Also for Universal, Fast & Furious 7 took a further $160,000 (£103,812) for a superb $59.2m (£38.4m) to date, while Unfriended will soon log out of the chart but has grossed a solid $5.4m (£3.5m).
WARNER BROS
Narrowly behind Pitch Perfect 2, Mad Max: Fury Road continued its strong start with a $4.07m (£2.64m) second weekend.
Warner Bros' critically acclaimed revival of the iconic action hero is up to $16.2m (£10.54m) as of Monday, making it director George Miller's second highest grossing film in the UK behind only Happy Feet ($29.1m/£18.9m).
DISNEY
Tomorrowland: A World Beyond was unable to repeat its chart-topping domestic bow, but was the week's highest new entry in third.
Disney's adventure landed with $2.28m (£1.48m) from its 544 sites, marking one of the lowest debuts for director Brad Bird who's had success with The Incredibles ($15m/£9.8m from 494) and Ratatouille ($6.8m/£4.4m from 503) in the UK.
Tomorrowland is up to $3.2m (£2.07m) as of Monday, and will hope to receive a boost from half term.
Also for Disney, Avengers: Age of Ultron rounded off this week's top five with a $1.6m (£1.1m) fifth weekend and has now shot to $69.9m (£45.4m).
FOX
Tucked in just behind Tomorrowland was Fox's Poltergeist as it scared up $2.25m (£1.46m) from its 433 sites on its UK bow.
That compares favourably to recent horror remakes, with the likes of Evil Dead, My Bloody Valentine 3D, Piranha 3D and Nightmare on Elm Street all posting debuts around £1.3m-£1.4m.
As of Monday, Poltergeist stood at $2.8m (£1.8m).
Also for Fox, Spooks: The Greater Good added $457,000 (£296,455) over the weekend and now stands at $4.3m (£2.8m), while Far from the Madding Crowd has reached $8.4m (£5.4m) after four weeks in play.
Home has amassed $35.9m (£23.3m), taking it past Shark Tale ($35.5m/£23.1m) in terms of DreamWorks Animation outings in the UK.
EONE
For eOne, Two by Two journeyed to a further $199,000 (£129,000) for $2.5m (£1.6m) to date, while Big Game hit the $1.5m (£1m) mark in its third week in play.
LIONSGATE
In its second weekend, Lionsgate's A Royal Night Out took $163,000 (£106,152) over Fri-Sun and is now up to $1.1m (£734,758).
Also for Lionsgate, Moomins on the Riviera failed to make an impact on its UK debut as it grossed just $121,000 (£78,590) from its 377 sites.
METRODOME
The New Girlfriend posted a UK debut of $146,000 (£94,838), including previews, from its 44 sites through Metrodome.
In terms of director François Ozon's outings in the UK, that's ahead of Young and Beautiful's $80,000 (£51,613) from 34 sites, but behind both Potiche ($311,000/£201,858 from 32) and In the House ($308,000/£199,594 from 82).
Also for Metrodome, Spring grossed $5,100 (£3,335), including previews, from its one-site release.
CURZON FILM WORLD
Clouds of Sils Maria is up to $213,000 (£138,325) in the UK after a $59,000 (£37,967) second weekend through Curzon Film World.
STUDIOCANAL
Released in 25 sites through StudioCanal, A Girl Walks Home Alone at Night bit into $46,000 (£29,703) over its opening weekend, rising to $64,000 (£41,679) as of Monday.
Also for StudioCanal, Girlhood has grossed $284,000 (£184,840) after three weeks in play.
UPCOMING RELEASES
This week sees saturation releases for Warner Bros' San Andreas, eOne's Danny Collins and StudioCanal's Man Up.
Universal's Search Party, Icon's The Dead Lands, Curzon Film World's Timbuktu and Soda Pictures' The Goob are among the films receiving limited releases.