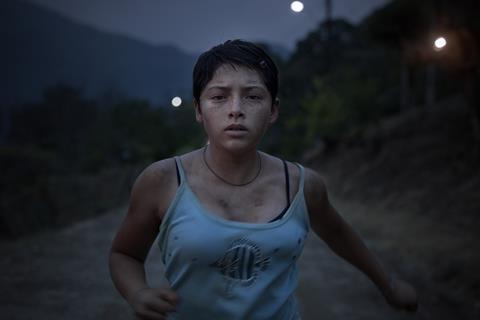 Tatiana Huezo's fiction debut Prayers For The Stolen won the top prizes at Athens International Film Festival (September 22-October 3), including best film (Golden Athena, worth €2,000) and best direction (Silver Athena).
The screenplay by Huezo and Jennifer Clement is based on the latter's novel and follows the life of three adolescent girls in a remote Mexican small city plagued by the narco-cartels.
Produced by Nicola Celis (Pimienta Film) who also produced Alfonso Cuaron's Roma, and Jim Stark, the film premiered in Un Certain Regard at this year's Cannes film festival, where it earned a special mention. It marks the renowned documentary director's fiction debut.
Huezo appeared via a video message at the awards ceremony. She could not attend the festival as Greece does not allow holders of Mexican passports to enter the country due to the pandemic.
The film was acquired for domestic release by Andrea Sotirakopoulos' Microcosmos Entertainment. World sales are handled by Match Factory.
Japan's Yujiro Harumoto won the screenplay award for A Balance, his sophomore outing as a director. The film targets the hypocrisy of the Japanese middle class through the story of a woman documentary director who unearths unpleasant realities about her father and inner circle while scouting and shooting a film
Its festival run includes outings at Busan, Pingyao and Tokyo. World sales are handled by Toei.
The Fischer Audience award and Greek Film Critics Association (PEKK) award went to Sebastian Meise's Great Freedom, which also won the Un Certain Regard jury prize at Cannes this year.
Athens' international documentary competition was won by Faya Dahi directed by Mexico's Jessica Beshir. This multinational producing effort (Doha Film Institute, Flie Collective, Ford Foundation) deals with the Ethiopian ritual of khat, a leaf chewed by Sufi Muslims for religious meditations. A special mention went to Andrea Arnold's Cow.
The festival went ahead this year as a fully physical event combining open air and indoor venues. Last year it was forced to use just open air venues due to Covid restrictions.
Artistic director Loukas Katsikas put together a 140 films selection - compared with only 90 last year – including the local premieres of Cannes Palme d'Or winner Titane and Berlin Golden Bear winner Bad Luck Banging Or Loony Porn. Another highlight was a complete Orson Welles retrospective featuring remastered digital prints.
Exhibitors look towards winter
The festival coincided with the start of the winter exhibition season, with measures such as mandatory masks and 50% attendance caps for indoor venues still in force until March 2022.
Though distributors consulted by Screen were hesitant to provide forecasts for the winter season, the four-day 80,000 admissions opening for No Time To Die bodes well for the public's eagerness to return to indoor venues.
Marilisa Totomi, from No Time To Die distributor Tulip, told Screen that figures were especially impressive as the length of the film allowed only one screening in summer venues and two indoors. She stressed however that the territory's box office chances could hinge on whether another lockdown is introduced due to Greece's low vaccination rate (around 60% of the population).
Lefteris Adamidis from independent distributor One From the Heart told Screen that reduced capacity of venues and potential lockdowns could impact more independent fare, rather than the big American and international movies which traditionally have access to the most profitable venues.
There is consensus that, if there are no extra Covid measures this winter, admissions for 2021 should be around 5.5-6m, compared to 9m in 2019.
Those canvassed by Screen also suggest that open air venues have performed much better than expected this summer in spite of the mandatory reduced capacity of 65%. Notable box office successes in the past months include Rosebud 21's Another Round (55,000 admissions) and Feelgood Entertainment's release of the local production Man Of God (260,000).