Screen spoke to Russian distributor Arthouse, which has pushed through Pride's release despite marketing challenges.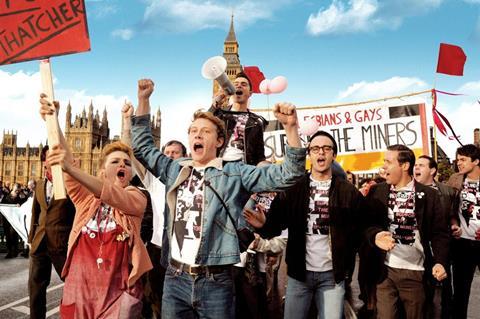 Following this week's Russian premiere of Pride, the British film that tells the story of LGBT support for the 1984 miners' strike, the film's local distributor Arthouse has warned ScreenDaily that the country's anti-gay propaganda law is "rolling Russia back to the dark ages".
In 2013, the Russian legislature outlawed "propaganda" promoting "non-traditional sexual relations" and in the process restricted any films containing same-sex content to audiences over the age of 18.
Pride received an 18+ certificate in Russia, the equivalent to an NC-17 in the USA, meaning that no one under the age of 18 can attend a screening of the film.
Arthouse CEO Yan Vizinberg told ScreenDaily that there exists a "conspiracy of silence" among federal channels, and that there is "currently huge interest in the gay rights issue in Russia" and that the film needed releasing because it "resonates with the current situation".
Arthouse was set up by Vizinberg, Sam Klebanov and Abigail Honor in March this year to focus on distributing foreign and independent films in Russia.
They are putting Pride into 20 Russian screens, including locations in Moscow and St Petersburg and other cities across the country, stretching as far as Siberia.
Klebanov released Blue Is The Warmest Colour in the country in 2014 through his company Cinema without Frontiers, despite protests from anti-gay campaigners.
Due to the country's anti-gay propaganda law, marketing the film through traditional means has been a significant challenge: "Many editors and journalists are choosing to stay away from the issue as this may attract the government's attention and criticism," said Vizinberg, who has instead relied on social media to draw attention to the release.
Vizinberg criticised the government's stance on homosexuality, stating that it was "doing its best to exploit nationalist feeling and hatred to those who are different".
He noted that despite the recent media spotlight on LGBT issues, in particular the decision by America's Supreme Court to make same-sex marriage a constitutional right, the situation in Russia was "getting worse every day".