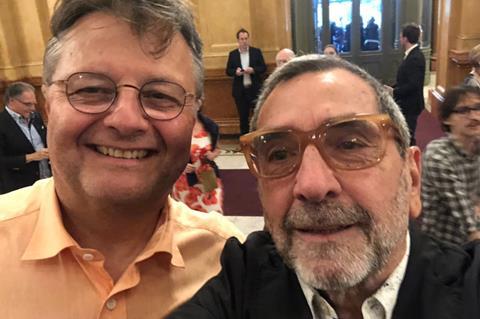 In the run-up to the hybrid 13th edition of Ventana Sur that starts in Buenos Aires later this month, top brass have unveiled the 16 development titles selected for its Proyecta co-production sidebar organised with San Sebastian Film Festival.
Proyecta filmmakers pitch to producers, programmers and sales agents in search of partners to complete financing and international distribution on co-productions between Latin American and Europe.
The fourth edition of Proyecta will run in-person and online and comprises a pitching session by project representatives on November 30 in Buenos Aires followed on December 1 by one-on-one meetings with accredited film industry professionals. Participants will also get the chance to set up online meetings on November 30 and December 2.
2021 Ventana Sur, co-headed by Jerome Paillard and Bernardo Bergeret (pictured), runs November 29-December 3 and includes networking, works-in-progress, project presentations and sales of Latin American and some European films. All activities are located in and around the Hotel Madero and Cinemark, Buenos Aires. Sales and distribution activities will happen mostly online.
This year's selection is made up of 11 Latin American projects from Argentina, Bolivia, Brazil, Colombia, Costa Rica and Ecuador (see below) and five European projects from Germany, Spain and Turkey. Thirteen projects were selected for the at the 10th San Sebastian Europe-Latin America Co-Production Forum by Paulo Roberto de Carvalho (Autentika Films), Javier Martín (San Sebastian Film Festival) and Clara Massot (Ventana Sur) together with one Ecuadorian project from the EAVE Puentes-Europe/Latin America Co-production Workshop, one from Brasil CineMundi, and a Spanish project, Camionero by Francisco Marise.
The Latin American Proyecta titles are:
The Waste Land (A Terra Gasta, Brazil)
Dir: João Dumans
Katásia Filmes
Alfredo Larón (Ger-Fra-Ec)
Dir: Benjamin Mirguet
Rohfilm Productions
Another Possibility (Bir Ihtimal Daha Var, Tur-Ger)
Burak Çevik
Fol Film
Diamond (Diamante, Bol-Arg)
Dir: Yashira Jordán
Empatía Cinema
The Future Hasn't Changed Us (El Futuro No Nos Ha Cambiado)
Dir: Adrián Orr
El Viaje Films
Winter's Ghosts (Fantasmas De Invierno, Arg-Per)
Dir: Gabriela Vidal
Gualicho Cine
Celestial Twins (Gemelos Celestiales, Chile-Neth)
Dir: Nilles Atallah
Quijote Films
Iluminada (Col-Bel-Fra)
Dir: Nicolas Rincón
Medio De Contención Producciones
The Cottage (La Quinta, Arg-Chil)
Dir: Silvina Schnicer
Brava Cine
The Swift Ones (La Raza De Los Ligeros, Arg)
Dir: Paola Buontempo
Murillo Cine
Far From Trees (Lejos De Los Árboles, Sp-Per)
Dir: Meritxell Colell
Allegra Films
If We Don't Burn, How Do We Light Up The Night (No Ardemos, Cómo Iluminar La Noche, CR-Mex-Fra)
Dir: Kim Torres
Noche Negra Producciones
Taturana (Bol)
Dir: Carlos Piñeiro
Socavón Cine.
The overall 16 projects include works by filmmakers who have participated in San Sebastian in recent years: Schnicer (Tigre, New Directors 2017, Carajita, New Directors 2021); Colell (Facing The Wind, Made In Spain 2018, Dúo, Europe Latin-America Co-Production Forum 2018); Dumans (Araby, Horizontes Latinos 2017); Marise (To War, New Directors 2018); and Atallah (Lucía, Films in Progress 2009 and New Directors 2010).