Seven Croatian features comprise the main competition, while Independence Day: Resurgence and Ghostbusters play in the international strand.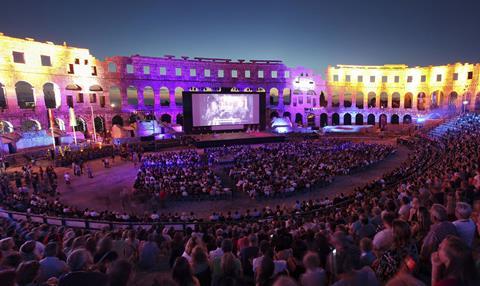 Scroll down for the full list of titles
Croatia's Pula Film Festival has revealed the line-up for its 63rd edition, which will take place July 9-16.
Croatian titles
Receiving 105 submissions from Croatian film-makers, festival president Hrvoje Pukšec and artistic directors Mike Downey and Tanja Miličić have selected 16 features and 18 shorts for the Croatian programme.
In competition will be Ivan–Goran Vitez's second feature Shooting Stars [pictured], after his debut Forest Creatures premiered in Pula in 2010, and Berlinale premiere On The Other Side, the latest feature from Zrinko Ogresta, who has received multiple accolades at Pula for previous features including 1995's Washed Out and 1999's Red Dust.
The festival will also host the out-of-competition world premiere of Rade and Danilo Šerbedžija's Second World War drama The Liberation Of Skopje.
Minority Croatia co-pros selected to play include Mirjana Karanović's Sundance premiere A Good Wife and Žiga Virc's Tribeca docu-drama Houston, We Have A Problem!
International programme
Playing in the festival's international strand will be an eclectic mix of blockbusters and arthouse films.
Roland Emmerich's Independence Day: Resurgence, Paul Feig's Ghostbusters and Mike Thurmeier and Galen T. Chu's Ice Age: Collision Course will all play out of competition, as will Michel Franco's 2015 Cannes Best Screenplay winner Chronic.
In the international competition will be Rebecca Daly's Sundance premiere Mammal and Mia Hansen-Love's Berlinale Silver Bear winner Things To Come.
Full line-up
Croatian programme
Feature films:
Generation '68, Nenad Puhovski
Ministry of Love, Pavo Marinković
Shooting Stars, Ivan–Goran Vitez
On the Other Side, Zrinko Ogresta
All The Best, Snježana Tribuson
Confusions, Lana Kosovac
Trampoline, Katarina Zrinka Matijević
Out of competition:
The Blue Cage, Bruna Bajić
Life is a Trumpet, Antonio Nuić
The Liberation of Skopje, Rade and Danilo Šerbedžija
Minority co-productions:
A Good Wife, Mirjana Karanović
Full Contact, David Verbeek
Houston, We Have A Problem!, Žiga Virc
Lazar, Svetozar Ristovski
Interruption, Yorgos Zois
Sparrows, Rúnar Rúnarsson
INTERNATIONAL PROGRAMME
Feature films:
Aloys, Tobias Nölle, Switzerland
Between Sea and Land, Carlos del Castillo, Columbia
Chevalier, Athina Rachel Tsangari, Greece
Evolution, Lucile Hadzihalilovic, France
Illegitimate, Adrian Sitaru, Romania
Kaili Blues, Gan Bi, Kina
Mammal, Rebecca Daly, Ireland
Mountain, Yaëlle Kayam, Israel
The Dreamed Ones, Ruth Beckermann, Austria
The Yard, Måns Månsson, Sweden
Things to Come, Mia Hansen-Love, France
Out of competition:
Chronic, Michel Franco, Mexico
Planet Single, Mitja Okorn, Poland
Independence Day: Resurgence, Roland Emmerich, USA
Ice Age: Collision Course, Mike Thurmeier and Galen T. Chu, USA
Ghostbusters, Paul Feig, USA