Two of the world's biggest genre geeks, Quentin Tarantino and Korean filmmaker Bong Joon Ho, discussed Asian cinema, casting and creative independence at the Busan film festival on Friday.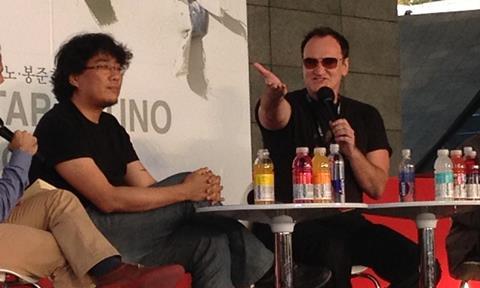 Tarantino said he was at an awards show in Macau when he heard his casting director on Inglourious Basterds, Jenny Jue, was going to hang with Bong in Busan and decided to tag along. The two directors have spent a few days eating, drinking and shooting the breeze and, much to Tarantino's excitement, went to see the restored version of One-Armed Swordsman, starring Jimmy Wang Yu, at the festival last night. They met the crowds in a special Open Talk session at Busan on Friday afternoon.
"I saw The Host when it was released in US theatres and was blown away," said Tarantino, referring to Bong's 2006 creature feature. "Of all the filmmakers I've seen out there, he has that thing that '70s Spielberg had – he can do many types of stories but always has this level of comedy and entertainment that is in there."
With his geek credentials in full throttle, Tarantino also professed a love of '70s director Huang Feng, who was ethnically Korean but made kung-fu movies for Hong Kong's Golden Harvest: "They all seemed to take place during the occupation of Korea by the Japanese and star Korean fighters – Angela Mao Ying would be the only Chinese actor in the film."
Apart from the mutual admiration – Bong described the ear-cutting scene in Reservoir Dogs as "beautiful" – the two filmmakers have a lot in common, from a love of cult Asian filmmakers of the '60s and '70s, to a habit of reinventing genre and using the same core group of actors from film to film.
Reviving careers
Bong said he was inspired by Tarantino's practise of casting actors who had been forgotten by the public and putting them back in the spotlight again.
He said his version of John Travolta's comeback in Pulp Fiction was casting Byeon Hie-bong in The Host and Memories Of Murder. "He was out of film work for ten years and acting in TV, but I knew he still had this power and presence that should be seen on the big screen."
Creative independence
The two filmmakers also agreed they've been lucky to hang on to their creative independence, despite the progressively bigger budgets they've been working with.
Talking about his $40m sci-fi film Snowpiercer, which had a gala screening at Busan earlier this week, Bong said that even though the film is English-language and filmed in the West, it was a true international collaboration with Korean producers and investment, rather than a studio film.
"So in a way I was protected," Bong said. "$40m is considered a huge budget in Asia, yet I was given creative independence and nobody interfered or put me under pressure."
Tarantino said he'd kept his freedom by insisting on always being a writer-director: "It's easy to keep your voice when it's always your writing, and that's where you're always starting from, but if I working with somebody else's script or adapting a book, I might fall into the traps that other people fall into."
In Bong's case, that creative independence may not extend to the editing room. Earlier in the week, he'd played down reports that he was unhappy at the cuts that Harvey Weinstein will make to Snowpiercer for its international release.
The Weinstein Company has English-speaking territories on the film, starring Chris Evans, Jamie Bell, Tilda Swinton and Song Kang-ho. The film was financed by Korea's CJ E&M, pre-sales and Korean equity and was a big hit at the Korean box office this summer.