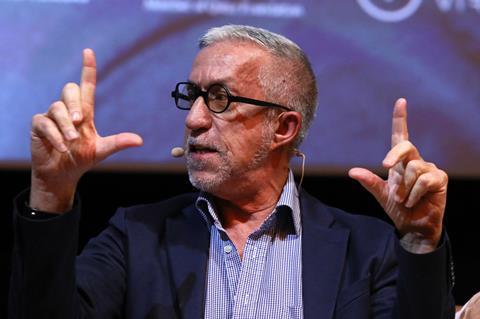 Virtual Reality (VR) remains on course to have as big an impact on our lives as the internet and smartphones even if the media hype around the new technology has died down over the past 18 months, French VR pioneer Michel Reilhac told an industry talk at the Doha Film Institute's Qumra event (March 15-20) this week.
"It's not happening yet, it's not in your pockets, nor easily available… the consensus is that it will take another four years for VR to start entering our lives in a massive way," he said.
Reilhac swapped the world of big-screen cinema for transmedia storytelling in 2012 when he left his position as the head of Arte France Cinema to pursue his interest in telling stories using new emerging technologies. In recent years, he has become a leading authority on VR and its storytelling potential.
As well as curating a number of VR showcases, Reilhac is the head of award-winning Amsterdam-based transmedia outfit Submarine Channel and is also a teacher at the Venice Biennale College.
His talk was accompanied by the Qumra VR Lounge showcasing internationally acclaimed works Arden's Wake/Tide's Fall by Eugene Chung and Spheres by Darren Aronofsky.
Reilhac acknowledged the initial excitement around VR had dissipated over the past years with a number of first- wave investors either pulling out of VR ventures or putting their involvement on hold.
"Three, four years ago, it was super cool to be in VR, very trendy, but the media is always looking for something new and the interest has since shifted to blockchain and cryptocurrencies," said the VR guru.
He cited Google's recent announcement that it was shutting down its VR studio Spotlight Stories; IMAX's closure of a number of dedicated VR viewing centres and digital studio Jaunt's decision to ditch VR to focus on augmented reality.
Reilhac said these developments did not mean it was over for VR but rather these first- wave players and investors had gone into the VR ventures with unrealistic expectations for the return on investment.
He suggested VR needed more time to get established and pointed to the timeframes for the introduction and take-off of the internet, mobile phones and even cinema some 120 years ago.
"It took a number of years for cellphones to become the ubiquitous extension of ourselves that we carry in our pockets today - it did not happen overnight. For cinema, it took a whole generation for filmmakers to learn the language and understand the medium," he said.
Gaming innovations
Reilhac noted some of the biggest developments in VR storytelling were happening within the gaming world, where the quality of props, settings and storylines had risen in recent years.
"The gaming industry has been pushing boundaries with VR for years now, offering the opportunity to be immersed in an alternate universe… filmmakers can learn from the gaming industry how to give their audience agency within the realities of their films," he said.
He highlighted how VR technology was already been employed in a number of other domains such as medical teaching, staff training and social media.
Reilhac warned, however, as VR becomes ever more sophisticated and takes off, its ability to transport people into other realities will come with ethical considerations.
"The truth is we have no idea where this technology could take us. It's scary and confusing. VR has the potential to create an alternative universe for humans, and we may well prefer to live as virtual humans in these worlds over living in the real world. But it's up to us what we do with this technology and I still believe it has huge potential."