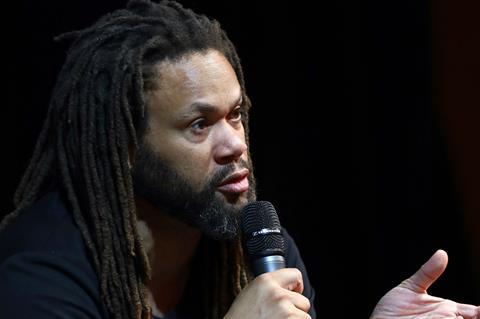 The Black List founder Franklin Leonard is mulling the expansion of his influential system of gathering and assessing unproduced scripts to include other markets and non-English language projects.
"I've been trying to figure out for a while how to expand The Black List into the Spanish language market," Leonard told an industry talk at the Doha Film Institute's Qumra project and talent development event in Qatar.
The challenge, said Leonard, is while the Spanish-language market is vast and encompasses some 500million Spanish speakers worldwide, the various Spanish-speaking film and TV industries around the world are not as joined up as the Hollywood market around which original The Black List was conceived.
"If you're a film producer in Mexico, you're probably not reading a lot of scripts from Spain or Colombia or Argentina now – there's no overlap," he said.
Leonard's annual The Black List surveys some 600 Hollywood film executives at the end of each year on the top ten unproduced scripts they have come across over the previous 12 months. His system works on the premise that the same pool of scripts is often doing the rounds of the key development executives in Hollywood. The Black List produces a ranking on the basis of the responses and how many times a script gets a mention. According to Leonard, some 300 executives take the time to respond.
More than 1,000 scripts have featured on The Black List since its creation in 2005, roughly a third of which have gone on to be made. They include Argo, The King's Speech, Slumdog Millionaire, The Revenant, and Bohemian Rhapsody.
A spin-off online community was launched in 2012, through which writers can make their work available to readers, buyers and employers. It hosts some 55,000 scripts and has generated more than 85,000 evaluations. At present, it is open only to English-language scripts aimed at the Hollywood market.
"One of the things I spend my time thinking about when I am stuck in Los Angeles traffic is how I can knit together all writers under all languages so they could share stories translingually and transnationally for the purpose of trying to get these movies made," Leonard told Screen. "I haven't figured the answer out yet but the reality is that the English-language market is the most lucrative for aspiring screenwriters and the one that most sustains the notion of that career.
"It's more of an intellectual interest than practical part of my roadmap for The Black List but often I find the things turning around in my head intellectually end up resulting in something else in the roadmap later on."
Leonard suggested the international film industries with potentially big enough markets and critical masses of financiers and writers included Bollywood, Nigeria's burgeoning Nollywood, and China, "if issues around intellectual property were to be fixed," he added.
He said it would be harder to replicate The Black List in Europe due to the multiple territories and languages spoken across the region.
"You could do a French-language version but it's a smaller pool. Spain is interesting because you've got all of Latin America apart from Brazil but I can't see how a Benelux or Dutch version would work."
He noted there was a UK spin-off of The Black List in the shape of the biannual Brit List.
"If there is anyone in any non-English market that would like to explore or better understand how to create a Black List for their market, I would be happy to talk to them. They can reach out to me via social media," he said.
Possible move into financing and production

Leonard revealed his long-term goal for The Black List is for it to break into film finance and production, tapping into its script expertise.
The company recently co-produced Richard Wong's comedy drama Come As You Are, about three men with disabilities on a mission to visit a brothel, alongside film investment outfit Chicago Media Angels.
The script by US writer, director and producer Erik Linthorst was an adaptation of the hit Belgian film Hasta La Vista, which in turn was based on an original idea from UK actor Asta Philpot. The script was not on The Black List.
"We came in shortly before they went into production so they had enough money to make it," Leonard explained.
The company is now gearing up to go into production with AGC Studios in June on dark comedy Breaking News In Yuba County, directed by Tate Taylor from a screenplay by Amanda Idoko, and starring Laura Dern and Allison Janney.
Leonard is also in the final stages of negotiating of a first-look deal with Endeavour Content and is also trying to raise an investment fund.
"I am looking to raise something in the low nine figures," he said. "We're not looking to invest in blockbusters but a number of movies over three to five years. If we can end up with $100m, I would be very happy but these things take time. I've been told it will take us 18 to 24 months, so let's say my deadline is the 2020 election."