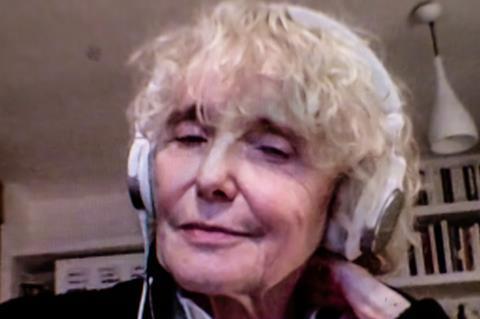 Filmmaker Claire Denis has revealed that she would love to make a French version of UK director Steve McQueen's Small Axe TV film series, capturing the lives of the Caribbean community in Paris.
"I would love to do a sort of French Small Axe," she told the inaugural masterclass of the Doha Film Institute's 2021 Qumra talent and project incubator event on Friday March 12.
While McQueen's anthology spans five separate films capturing the lives of West Indian immigrants in London from the 1960s to the 1980s, Denis said her version would further explore the world of the Caribbean community at the heart of her 2008 feature 35 Shots Of Rum.
"The Caribbean [people] in Paris have been numerous since the 1920s. They have always been living their own lives there. They have French passports, but they're apart. They're not African, they're not French and yet they are French, and yet they're black and yet they're descended from Africans," she said.
Set in an outer Paris suburb, Denis describes 35 Shots of Rum as a personal film that took inspiration from the work of Japanese filmmaker Yasujirō Ozu, who she cites as one of her favourite directors, and the tightknit relationship between her own mother and grandfather. Alex Descas co-stars as a French-Caribbean train driver who has raised his daughter, played by Mati Diop, alone following the death of her German mother. The film features an ensemble mainly French black supporting cast with either Caribbean or West African roots. It explores the protagonist's working life on the railways as well as his personal story.
"When I was making 35 Shots Of Rum, I kept thinking it would be good if we could another story with another group of Caribbean guys like that, one working in a hospital, I would have loved it, and then another one with the post office or something like that, you know… but it was not possible at the time," Denis continued.
For now, Denis is editing her love triangle drama Fire, co-starring two of her long-time collaborators Vincent Lindon and Juliette Binoche, and hopes to start shooting her long-gestating Nicaragua-set romantic drama The Stars At Noon, starring Robert Pattinson and Margaret Qualley, this autumn.
Early Inspirations
Moderated by Qumra regular and Columbia University film academic Richard Peña, the wide-ranging Qumra masterclass delved into the origins of Denis's filmmaking ambitions. She explained how her childhood in 1950s West Africa had opened her eyes to the fallacy of the myths of white superiority that permeated European culture at the time.
It was her deep childhood connection with West Africa and desire to challenge these preconceptions that drove her to shoot her first feature Chocolat in Cameroon, even though it would have been easier and less challenging to cut her solo directorial teeth back in France, where the family had returned when she was a teenager.
"So many things, films, books or comic strips showed the African continent as a place for white people to live as masters as if it were natural," she recalled. "I remember being obsessed by the fact that while I was having breakfast or dinner, I would be served by someone, or that we never had to clean the floor, suddenly we were living in a different social class, because we were white."
Starring François Cluzet, Giulia Boschi and Isaach de Bankolé, Chocolat explores the issues of colonialism and subjugation through the complex relationship between a French couple living in Cameroon in the 1950s and their "house boy", through the memories of their then young daughter some 20 years later.
Denis said her own sense of unease and guilt, even as a child, about the power relationships at play between white Europeans and black Africans, had given her the strength to follow through with the film.
"There must be something that is more important than anything else to be told and for me in my first film, it was to go back to that part of the world I knew. It's not only colonialism, it's where some people, the people with white skin, were stealing," she explained. "It was more important than anything else and it was that priority that made me strong enough to make it happen. It took me four years. At that time, it was my reason to live. That might sound a little bit pretentious but it was not pretentious, I was desperate."
The film was Denis's first collaboration with Jean-Pol Fargeau, with whom she has since co-written nearly all her films. Co-writing for Denis is something that has to be done side-by-side in the same physical space and is not something she can do via emails or video calls.
'The physicality of feeling the script is important when you are together," she said.
Talking about how she first fell in love with cinema, Denis credited a teacher at her school in a Paris suburb for sparking a deeper interest in cinema when she was in her early teens.
"I had a teacher who organised a cinema club. It was my first cinematheque. Because she was communist, she would show us mostly Russian films or Elia Kazan movies. She had this spirit of giving us through films her own beliefs about the world," she recalled. "It gave me the immediate impression that films were precious and full of meaning."
Mentors and the act of finding a film
After graduating from film school, Denis worked as an assistant to Jacques Rivette, Wim Wenders and Jim Jarmusch on films including Paris, Texas. Wings Of Desire and Down By Law. It was a happy period for Denis, and working with Wenders was a particularly positive experience.
"To be an assistant was such a joy for me. My life became very different as a director. As an assistant, I felt I had the strength, that everything was possible. As a director, I have, of course, this fear, this terrible anxiety of missing the film," she said.
Rivette and Wenders had given her the confidence "to look for the film". "They knew the film is somewhere there, like a gold digger. It's something you have to search for in the process of making it. Maybe the script is perfect and the cast is perfect and yet the film is not there. A film has a form, and, and a feeling you know, without that maybe the image is beautiful, maybe the acting is great. And yet something is missing…The film is something to get… you have to bend and dig and dig."
Denis is one of five Masters participating in this year's edition of the DFI's Qumra event alongside filmmakers James Gray and Jessica Hausner, as well as sound designer Mark Mangini and cinematographer Phedon Papamichael.