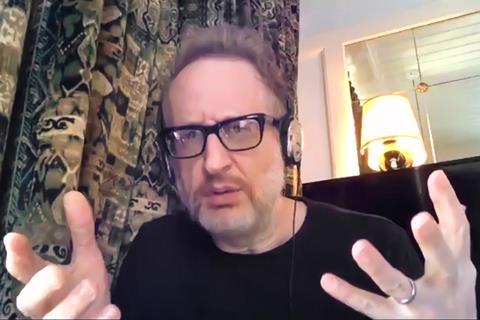 James Gray has revealed he is setting his sights on an autumn start for his aptly titled project Armageddon Times, set to star Robert De Niro, Anne Hathaway, Oscar Isaac and Cate Blanchett.

The New York-based filmmaker's everyday existence has been hard hit by the Covid-19 pandemic and the lockdowns but he remains confident his cast will be vaccinated and ready to hit the set.
Written and directed by Gray, the feature is produced by his Ad Astra partner, Brazil's RT Features with the backing of Focus Features. It draws on the filmmaker's own experiences as a student at the Kew-Forest School in Queens which counts Donald Trump among its alumni. The former US president's sister delivered a speech to Gray and his fellow pupils.
"Cate Blanchett is going to play Donald Trump's sister which is the weirdest sentence I have ever said," Gray says. "She's only in it for three days, she's doing me a favour. She has a really long speech to deliver, it's a real scene-stealer. I've tried to recreate the real speech as best I could from memory."
The project is currently hostage to Covid-19 insurance, Covid-19 health and safety protocol costs and when New York is going to open up for filming. "Let's face it, vaccination has got to get more widespread. The US wasn't doing so well but it looks like we've got our heads out of our asses, a lot of people have been vaccinated, including me by the way. I'm ready to go and shoot this thing."
He says he is looking forward to flexing his creative muscles again. "I worry I have gotten stale because I haven't worked in a while. Creatively it has not been great when you try and create in the context of never leaving your house. It's like being under house arrest, maybe I should treat it like that because a lot of great people wrote great things from jail over the years."
From Paris to Qumra
The director is one of five Masters participating in this year's edition of the DFI's Qumra event alongside filmmakers Claire Denis and Jessica Hausner, sound designer Mark Mangini and cinematographer Phedon Papamichael.
He landed the mentor role when he was directing the opera The Marriage of Figaro in Paris and met up with Martin Scorsese for the premiere of The Irishman at the Cinémathèque Française. Doha artistic advisor and filmmaker Elia Suleiman, who Gray has known for a few years, was there to say hello to Scorsese. "He [Suleiman] said he was wondering if I would participate [in Qumra]."
Gray jumped at the chance to work with emerging filmmakers. "I want people to start seeing that the corporation isn't their daddy. They have to start thinking that great art should be provocative, interesting and at times shocking, it's necessary to fight against the system. Your objective as an artist is to express, not to impress."
"It was the worst movie I ever saw in my life"
During a lively Qumra masterclass moderated by Columbia University film academic Richard Peña, an ebullient Gray chewed over the nirvana that is creative control, why he was shocked when he saw his first film Little Odessa and why without Mohammed Ali, Edward Hopper and Picasso he would not be the filmmaker he is. He described himself as "very much a product of New York", and how he shot Ltttle Odessa, starring Tim Roth, Vanessa Redgrave and Max Schell at the age of 23, fresh out of the prestigious University of Southern California film school where he had studied on a scholarship.
"There's a lot of luck involved," he says now of how a career can unfold. He recounted how he had sent Tim Roth his script blind and his surprise the actor read it, and liked it. Once Roth he was on board, the rest fell into place speedily.
But going to see the editor's first assembly of all the footage was a shock. "It was the worst movie I ever saw in my life," Gray said. "It was such a wake-up call about how difficult it is to mount a story on film with elegance and emotion. I really mean this: my ego has never fully recovered from that moment."
In spite of his reservations, the film went on to win the Silver Lion at Venice in 1994, with Redgrave also winning best supporting actress. Gray has made six other features since, four of which have competed for the Palme d'Or at the Cannes Film Festival.
Gray revealed he does not edit while he shoots or even look at the dailies. But he has never forgotten that first assembly horror. "Rigour and repeated effort is underrated," Gray says. "A lot of filmmakers through time have been aided by tremendous collaborators. The collaborator is everything and you better listen."
The director's sophomore feature The Yards in 2000 marked his first film with Joaquin Phoenix, who would go on to become a frequent collaborator.
Next came Gray's New York crime drama We Own the Night in 2007, with Mark Wahlberg, Eva Mendes and Robert Duvall also starring alongside Phoenix. It picked up a best foreign film César nomination and screened In competition at the 2007 Cannes Film Festival. Gray revealed he did not want it to play at Cannes because he felt it was not the type of film that would flourish at the festival. "There's a certain kind of cinema that is embraced and I don't mean that as a criticism, it's great. I had meant it to be a very pulpy, new Hollywood genre cop movie."
Creative control
Gray was "given $9 million and complete creative control" to make his fourth movie Two Lovers, with Phoenix and Gwyneth Paltrow after We Own the Night made a "ton of money" for its backers Industry Entertainment and Mark Cuban's 2929 Entertainment. By now, working with stellar acting talent from the get-go was the norm for Gray.
Two Lovers was followed in 2013 by The Immigrant starring Phoenix, Marion Cotillard and Jeremy Renner. It is another example of personal experience being a big part of Gray's filmmaking life. The film is inspired by his grandparents who fled the northern Spanish region of Galicia, arriving in New York via Ellis Island in 1923.
Gray revealed how art has played a big part in his entry into cinema. As a teenager, he went to a retrospective of Edward Hopper's work at the Whitney in New York in 1980 and a retrospective the year before of Picasso at the MOMA. "Those shows really made me look at things differently."
Another source of inspiration was Muhammed Ali. "He gave up the three best years of his fighting life for something he believed in," Gray said. "As a kid, I can't tell you how much impact that had on me knowing it was not all about the money."
Gray said he saw his filmmaking life as an exchange: working less frequently but doing work he cares about and wants to fight for.
"I didn't have final cut on the first three movies so I had issues with them but with Two Lovers I finally had creative control," Gray told the Qumra audience. "I then gave it up for Ad Astra given the size of the movie, but I made three with total creative control and I always felt that good or bad they would always be my voice even if it meant not working all the time. If I don't care about the work, the work is not going to be any good at all. So all the flaws and all the things wrong with it, it better be mine."