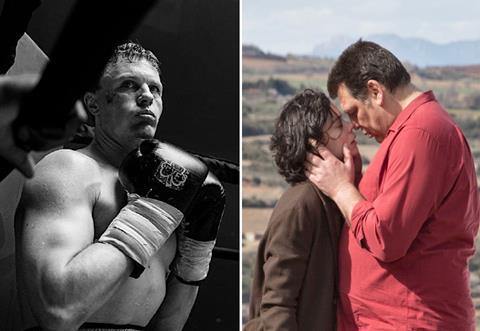 The UK premieres of Jack Huston's Day Of The Fight and Isabel Coixet's Un Amor will respectively open and close the 31st Raindance Film Festival, which will take place in London from October 25-November 4.
Day Of The Flight launched in Horizons at Venice earlier this month. It is the directorial debut of UK actor Huston and stars Michael Pitt, Ron Perlman and Joe Pesci in a story about a once-renowned boxer on his first day out of prison.
Coixet's latest feature Un Amor stars Laia Costa as a woman who becomes entangled in a complicated sexual relationship after relocating to rural Spain. It will screen first in competition at this year's San Sebastian International Film Festival (SSIFF).
The film is being presented as part of the festival's special guest focus on Catalonia along with other screenings Upon Entry, Tender Metalheads and La Singla.
Raindance showcases independent films from the UK and around the world, with a particular focus on first, second and third-time filmmakers.
The debut features in the Discovery strand include Brittany Snow's Parachute; Babatunde Apalowo's All The Colours Of The World Are Between Black And White; Kazakhstan's Eldar Shibanov's Mountain Onion; and Fisnik Maxville's The Land Within.
The UK selection includes the world premiere of Embers from UK actor Christian Cooke who also stars in the drama about a sexual surrogate employed at a psychiatric ward to help a patient overcome his intimacy issues. Further UK films in this strand include Johnny Barrington's Edinburgh opener Silent Roar; Charley Feldman's Long Distance Summer - Sara Mardini; Caroline Sharp's Sisters Interrupted; Kit Vincent's Red Herring; Simon Ross' The Portrait; Stuart Gatt's Catching Dust; and Adam Ethan Crow's Warhol.
Documentaries Omar And Cedric from Nicolas Jack Davies and The Books He Didn't Burn from Germany's Claus Bredenbrock and Jascha Hannover will both world premiere at the festival.
Other international titles include Rod Balckurst's Blood For Dust starring Kit Harrington and Merle Grimme's Clashing Differences. Carol Morley's Typist Artist Pirate King will play out of competition as a special pre-release gala screening.
Raindance will give out eight awards across key categories with the jury comprising directors Celyn Jones, Duncan Jones and Michael Winterbottom and actors Michael Socha, Rory Kinnear, Samuel Bottomley, Sope Dirisu, Tara Fitzgerald and Vinette Robinson.