This year's festival will include an inaugural virtual reality strand and a co-production forum focused on UK-Ibero-American relations.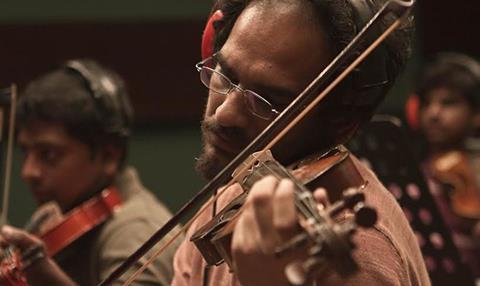 Scroll down for line-up
The 24th Raindance Film Festival has revealed its line-up, with 90 feature films set to be screened in London September 21 – October 2.
This year's jury will be comprised of Stephen Fry (V For Vendetta), Joanna Lumley (Absolutely Fabulous), Imelda Staunton (Vera Drake), Jodie Whittaker (Broadchurch), Anna Friel (Pushing Daisies), Jack Davenport (Pirates Of The Caribbean), Nicholas Pinnock (Top Boy) and American artist David Datuna.
They will preside over awards for a competition line-up that features the international premiere of Stephen Elliott's After Adderall, a semi-autobiographical story about the production of the film adaptation of Elliott's memoirs. Receiving its European premiere will be Japanese director Yoshiyuki Kishi's A Double Life, about a young woman who is assigned to follow a stranger.
Among the seven UK premieres playing in competition are Indian drama The Violin Player [pictured] from director Bauddhayan Mukherji, Mirko Pincelli's directorial debut, the Italian-English co-production The Habit Of Beauty, which stars Noel Clark, and Adam Irving's documentary Off The Rails, about a man with Asperger's syndrome whose love of impersonating New York City public transport drivers has landed him in jail more than 30 times.
This year, the festival will also introduce a strand titled Raindance Lab – Future of Film, which will include an inaugural virtual reality (VR) Arcade. The event will feature 14 VR experiences, including Home – An Immersive Spacewalk Experience and Notes On Blindness: Into Darkness.
Oscar-nominated screenwriter and Guillermo Arriaga will return to the festival for a second consecutive year to deliver a masterclass for aspiring film-makers. Arriaga is known for his collaborations with Alejandro G. Iñárritu, including on Amores Perros, Babel and 21 Grams.
The festival's co-production forum will also return for a second outing, with this year's focus being on the relationship between the UK and Ibero-American film industries. The festival is partnering with Mexico's Guadalajara International Film Festival to deliver an event featuring panels, seminars, workshops and events, all with the aim of increasing investment and co-production opportunities between the two industries. The full industry line-up will be announced early next month.
Competition Line Up:
IN COMPETITION FEATURE FILMS
A Double Life, Yoshiyuki Kishi, Japan, European Premiere
After Adderall, Stephen Elliott, USA, International Premiere
Between Us, Rafael Palacio Illingworth, USA, UK Premiere
El Pastoro (The Shepherd), Jonathan Cenzual Burley, Spain
Hortensia, Diego Lublisnky and Álvaro Urtizberea, Argentina, UK Premiere
Hotel Dallas, Livia Ungur and Sherng-Lee Huang, Romania/USA, UK Premiere
Jules and Dolores, Caito Ortiz, Brazil, UK Premiere
Panamerican Machinery, Joaquin Del Paso, Mexico, UK Premiere
The Violin Player, Bauddhayan Mukherji, India, UK Premiere
Train Driver's Diary, Lazar Ristovski, Serbia/Croatia, UK Premiere
BEST DOCUMENTARY FEATURE
A Brilliant Genocide, Ebony Butler, Australia, UK Premiere
A Plastic Ocean, Craig Leeson, UK/Hong Kong/USA, UK Premiere
Death by a Thousand Cuts, Juan Mejia Botero and Jake Kheel, USA/Dominican Republic, European Premiere
Growing Up Coy, Eric Juhola, USA, European Premiere
Off the Rails, Adam Irving, USA/Canada, European Premiere
BEST FEATURE DEBUT
Dusky Paradise, Gregory Kirchhoff, Germany, UK Premiere
Her Composition, Stephan Littger, USA/Germany, UK Premiere
Kamper, Łukasz Grzegorzek, Poland, UK Premiere
The Farm,Angel Manuel Soto, Puerto Rico, UK Premiere
The Habit of Beauty, Mirko Pincelli, UK/Italy, UK Premiere
BEST UK FEATURE
AmStarDam, The Lennox brothers, UK Premiere
Five Days on Lesvos, Richard Wyllie, World Premier​e
For Grace, Sebastian Armesto, UK Premiere
Gozo, Miranda Bowen, UK/Malta, European Premiere
Long Forgotten Fields, Jon Stanford, World Premiere
BEST SHORT FILM
A l'Arraché (Snatched), Emmanuelle Nicot, Belgium, International Premiere
Furiant (Peacock), Ondřej Hudeček, Czech Republic
Moloch, Szymon Kapeniak, Poland/ Ukraine, UK Premiere
Seide, Elnura Osmonalieva, Kyrgyzstan
What a Beautiful World This Will Be, Tyler Walker, USA, UK Premiere
BEST UK SHORT FILM
Balcony, Toby Fell-Holden
Dunroamin, Oliver S. Milburn
Healey's House, Rob Savage, World Premiere
Pauline, Fred Rowson
You Are Awake, Pedro Martin – Calebro
BEST UK WEB SERIES
Blood, Sweat & Chokes, Sol Rikweda
Ren: The Girl with the Mark, Kate Madison
Rich Keeble Vanity Project, Rich Keeble/Sam LeGassick/ Edd Wright
Shield 5, Anthony Wilcox
S- Band, Hannah George
BEST INTERNATIONAL WEB SERIES
20 Seconds to Live, Ben Rock, USA
Discocalypse, Dirk Rosenloecher, Germany
Il Sonnambulo, Hannah & Douglas Rath, UK/USA
The Fourth Door, Tony E. Valenzuela, USA
Young Graduate, Shannon Renaudeau/ Florent Sabatier, France
VR ARCADE:
6x9 – A Virtual Experience of Solitary Confinement, Francesca Panetta and Lindsay Poulton, UK, produced by the Guardian
Across the Line, Nonny de la Peña, USA
Ctrl, Nigel Townsend, UK
Easter Rising: Voice of a Rebel, Oscar Raby, UK, produced by the BBC
Home – An Immersive Spacewalk Experience, Kate Bartlett and Tom Burton, UK, produced the BBC
In My Shoes: Dancing with Myself, Jane Gauntlett, UK
Inside the Box of Kurios, Paul Raphael and Félix Lajeunesse, Canada
Invisible, Darren Emerson, UK
Notes on Blindness: Into Darkness, Arnaud Colinart, Amaury La Burthe, Peter Middleton and James Spinney, UK/France
RecoVR: Mosul, Visualise Films, UK, commissioned by the Economist
The Rose & I, Eugene Chung, France
Tomorrow, Future Lighthouse, Spain
The Turning Forest, Oscar Raby, UK, produced by the BBC
Witness 360: 7/7, Darren Emerson, UK