London-based festival to open with Oh Lucy! with Josh Hartnett.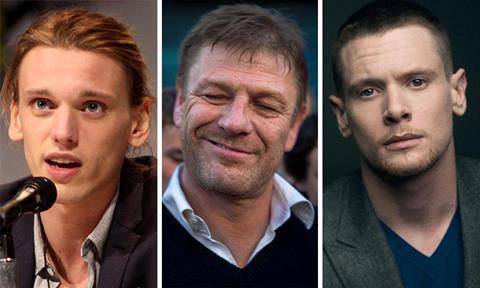 The 25th Raindance Film Festival (Sept 21 -Oct 2) has revealed the majority of its line-up and jury members.
The international premiere of Atsuko Hirayanagi's Oh Lucy! (USA), starring Josh Hartnett, is the opening night film of the London-based event. The closing night film will be announced later this month.
The competition jury includes ex-BIFA director Johanna Von Fischer, Spanish producer Rosa Bosch and actors Jamie Campbell Bower (Twilight), Jack O'Connell (Unbroken), Sean Bean (Game Of Thrones), Christopher Eccleston (Dr Who), Ewen Bremner (Trainspotting), Celia Imrie (Absolutely Fabulous: The Movie), Marianne Jean-Baptiste (Training Day), Nicholas Lyndhurst (Only Fools and Horses), Hakeem Kae-Kazim (Hotel Rwanda), Josh Whitehouse (Northern Soul), Neil Marshall (Game Of Thrones) and Rachel Portman (Chocolat).
They will preside over awards for a competition line-up that features the European premiere of Koichiro Miki's Noise and the world premiere of Evald Johnson's High & Outside: A Baseball Noir.
Among the UK premieres playing in competition are Maya Dardel, directed by Zachary Cotler and Magdalena Zyzak and starring Rosanna Arquette, and Tom Gustafson's Hello Again!, which explores 10 fleeting love affairs across different periods of time in New York and stars Rumer Willis.
The categories announced today (15 August) were the competition films in its UK features, documentaries, shorts, web series and virtual reality categories.
The newly established virtual reality strand, which runs from September 28 - October 1 will feature the Raindance VRX Awards, VRX Summit, VRX Market and the VR Arcade and will recognise virtual reality experiences in 10 categories (see below).
The festival's third co-production forum will focus on the relationship between the UK and Italian film industries.
The Live! Ammunition! 'pitching' event returns. This year's panellists include Dean Cross from Vue Entertainment and Tara Barnett, sales manager from 20th Century Fox.
Last week the festival revealed that Guy Ritchie would receive the Raindance Film Festival auteur award.
Competition line-up
IN COMPETITION INTERNATIONAL FEATURE FILMS
Maya Dardel, Zachary Cotler and Magdalena Zyzak, USA
Mukoku, Kazuyoshi Kumakiri, Japan, UK Premiere
Noise, Koichiro Miki, Japan, European Premiere
The Constitution, Rajko Grlc, Croatia, UK Premiere
Hello Again! Tom Gustafson, USA, UK Premiere
The Traveller, Hadi Ghandour, France / Lebanon, UK Premiere
Swaying Mariko, Koji Segawa, Japan, International Premiere
High & Outside: A Baseball Noir, Evald Johnson, USA, World Premiere
Black Hollow Cage, Sadrac González-Perellón, Spain, UK Premiere
Djam, Tony Gatlif, France
BEST DOCUMENTARY FEATURE
The Family I Had, Katie Green and Carlyle Rubin, USA, UK Premiere
RiverBlue: Can Fashion Save the Planet? David McIlvride and Roger Williams, Canada, UK Premiere
On Yoga The Architecture of Peace, Heitor Dhalia, Brazil / USA, UK Premiere
Bluefin, John Hopkins, Canada, European Premiere
Speak Up, Stéphane de Freitas and Ladj Ly, France, UK Premiere
BEST DEBUT – DISCOVERY AWARD
A Trip to the Moon, Joaquin Cambre, Argentina, UK Premiere
I Still Hide To Smoke, Rayhana Obermeyer, France
Scaffolding, Matan Yair, Israel / Poland, UK Premiere
Children of the Night, Andrea De Sica, Italy, UK Premiere
The Story of a Satellite, Sonia Albert-Sobrinoa and Miriam Albert-Sobrino, Spain, European Premiere
BEST UK FEATURE
In Another Life, Jason Wingard, World Premiere
Stooge, Madeleine Farley, World Premiere
The Dark Mile, Gary Love, UK Premiere
Edie, Simon Hunter
Isolani, R. Paul Wilson, World Premiere
BEST INTERNATIONAL SHORT FILM
Game, Jeannie Donohoe, USA, UK Premiere
Goddess, Karishma Dube, India / USA
Lethe, Dea Kulumbegahsvili, France / Georgia
Mixtape Marauders, Peter Edlund, USA, International Premiere
Viola, Franca, Marta Savina, Italy, UK Premiere
BEST UK SHORT FILM
Work, Aneil Karia
CLA'AM, Nathaniel Martello-White, European Premiere
Wild Horses, Rory Alexander Stewart
46, Joseph A. Adesunloye, World Premiere
BEST UK WEB SERIES
I Gotta Be Me, Steven Bloomer
Stories of Note, Caleb Yule
Pls, Like, Tom Kingsley
Millennial Theory, Hugh O'Shea, Phillip Whiteman
BEST INTERNATIONAL WEB SERIES
The Adventures of A Broken Heart, Ariel Martínez Herrera, Argentina
High Life, Glen Dolman and Luke Eve, Australia
The Break Up List, Aaron Khoo, Singapore
Jezebel, Julien Bittner, France
Save Me, Fab Filippo and Dylan Pearce, Canada
Clash of the Narratives, Robin Forestier-Walker
BEST INTERACTIVE NARRATIVE VR EXPERIENCE
Life Of Us, Chris Milk and Aaron Koblin, USA
Manifest 99, Adam Volker and Bohdon Sayre, USA, World Premiere
Ray, Rafael Pavón, Spain, World Premiere
Treehugger: Wawona, Robin McNicholas, Barney Steel and Ersin Han Ersin, UK
BEST MOBILE INTERACTIVE VR EXPERIENCE
Horizons, Yuli Levtov, UK
In the Eyes of the Animal, Robin McNicholas, Barney Steel and Ersin Han Ersin, UK
Virtual Virtual Reality, Samantha Gorman and Adam Veal, USA, UK Premiere
BEST CINEMATIC NARRATIVE VR EXPERIENCE
Alteration, Jérome Blanquet, France, UK Premiere
Broken Night, Alon Benari and Tal Zubalsky, USA, UK Premiere
The Tragic Story of Betty Corrigall, Peter Boyd Maclean, UK, European Premiere
UTURN, Nathalie Mathe and Ryan Lynch, USA, European Premiere
BEST DOCUMENTARY VR EXPERIENCE
First Impressions, Francesca Panetta and Nicole Jackson, UK
Iranian Kurdish Female Fighters, Namak Khoshnaw, Iraq, UK, World Premiere
Songs of Vine, Maira Clancy and Blake Montgomery, USA, Peru, European Premiere
¡Viva La Evolución!, Fifer Garbesi, Cuba, UK Premiere
BEST ANIMATION VR EXPERIENCE
Arden's Wake, Eugene Chung, USA, UK Premiere
Dear Angelica, Wesley Allsbrook and Saschka Unseld, USA, UK Premiere
Rain or Shine, Felix Massie, UK
Song of the Sea, Jerrica Cleland and Tomm Moore, Ireland, UK, Denmark, International Premiere
BEST MUSIC VR EXPERIENCE
Beethoven's Fifth, Jessica Brillhart, USA
Mind Enterprises: Chapita, Eran Amir, UK
Peroration Six, Fabien Coupez, USA, World Premiere
Reeps One: Does Not Exist, John Hendicott and Gawain Liddiard, UK, USA, UK Premiere
BEST BRANDED VR EXPERIENCE
Manchester City - Match Day, Adam May, UK, World Premiere
Snatch VR Heist Experience, Rafael Pavón and Nicolás Alcalá, Spain, USA, UK Premiere
The Chainsmokers Paris VR, Brynley Gibson and Russell Harding, UK, European Premiere
Welcome To Laphroaig, Darren Emerson, UK, World Premiere
BEST SENSUAL VR EXPERIENCE
Come! (Viens!), Michel Reilhac, France
In My Shoes: Intimacy, Jane Gauntlett and Andrew Somerville, UK
Second Date, Jennifer Lyon Bell, Netherlands, USA, World Premiere
Through You, Saschka Unseld and Lily Baldwin, USA
BEST SOCIAL IMPACT VR EXPERIENCE
42 Days, Animal Equality, USA, Spain
Aftershock: Nepal's Untold Water Story, Catherine Feltham, UK
Munduruku: The Fight to Defend the Heart of the Amazon, James Manisty and Grace Boyle, UK, Brazil
BEST SOUND DESIGN VR EXPERIENCE
Life Of Us, Chris Milk and Aaron Koblin, USA
Reeps One: Does Not Exist, John Hendicott and Gawain Liddiard, UK, USA, UK Premiere
The Resistance of Honey, Peter Boyd Maclean, UK, UK Premiere
The Tragic Story of Betty Corrigall, Peter Boyd Maclean, UK, European Premiere
Other Festival prizes include:
Film Of The Festival
Raindance Co-Production Forum Winner
Best Animated Short