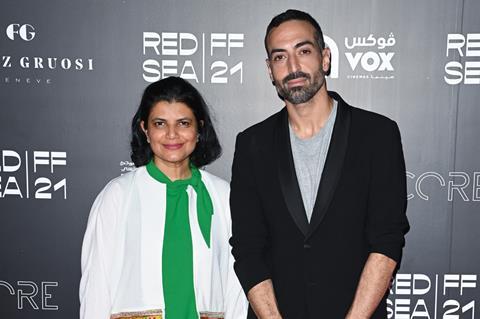 Saudi Arabia's inaugural Red Sea International Film Festival draws to a close on Wednesday (December 15) after a buzzy first edition in the port city of Jeddah.
Unfolding in the city's historic quarter of Al Balad, the 10-day event spanned a festival and the Red Sea Souk industry-focused market and project co-financing meeting.
The festival wraps with the world premiere of Kabir Khan's 83, about India's unexpected victory in the 1983 World Cup finals against the West Indies. Alongside Khan, co-stars Ranveer Singh and Deepika Singh as well as Indian sports legends Kapil Dev and Mohinder 'Jimmy' Amarnath have flown in for the event with a large entourage.
The festival's managing director Shivani Pandya, who has driven the creation of this new event, talks to Screen about pulling off the first edition.
How do you feel it has gone?
The first year is always the toughest year. You don't know what to expect. We've pushed quite a few boundaries. It's been well received. I'm very happy and very proud that we've been able to put out the kind of films we have and showcase the creativity of the talent here and in the region.
Was the non-attendance of artistic director Edouard Waintrop a blow?
It was. He was meant to come and the day he was meant to fly out of Paris, he sent me a message saying he wasn't well. We were really waiting for him to come down. He was supposed to be making some presentations and it meant a lot of last-minute changes. Having him here as the artistic director would have been great.
How much impact has Omicron had?
When the new variant came out, we lost some international [guests].
Do you think some of those cancellations were also people who had last-minute qualms about travelling to Saudi Arabia because of its track record on human rights?
The people who had doubts just declined when the invites were sent out. They never registered in the first place. I think a lot of people have been taking a 'let's wait and watch and see how the first year goes' approach.
Do you think it will be easier or harder to get people to attend the second edition?
I think it will definitely get easier. Everybody who has come in, they've seen the festival, the filmmakers, the market, they've seen what happens – I feel the word of mouth will be positive. I think that will bring in more people. Over time, people will be less resistant because there is a real effort to make change. That's what's important to convey. The younger generation is excited about the festival. They're excited about the changes being carried out. For us, we're just giving them a platform to showcase their work and their creativity.
What feedback have you had from attendees?
I've had amazing feedback. Everybody has said great things and has been really kind. Obviously, we've had some logistical issues, but I think the energy and what they saw compensated for that. There is real talent here, there's a huge amount of energy. Everyone had a great vibe.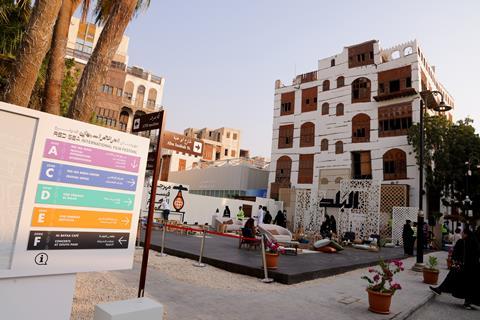 The festival was very spaced out geographically in terms of the hotels and the festival venues. Is that something you will or can tweak for next year?
It's a question of what is available. Things have only started opening up in the last three years. It's not just cinemas, even hospitality. Tourism was previously only linked to people who were doing the Hajj and travelling to Mecca [which is an hour's drive from Jeddah]. Now the country is opening up there be will a lot of change. We're going to see huge amounts of development. We will make a concerted effort to have everyone closer in 2022.
This year, [the festival's] closeness to Formula One [the inaugural Saudi Arabia Grand Prix which took place in Jeddah from December 3 to 5] as well as the fact we had a lot of guests also made it complicated.
Will Jeddah's old quarter known as Al Balad remain at the heart of the festival?
We will always be around Al Balad and the long-term plan is to have a base that could also serve as a cultural centre.
Will the festival stay in December next year?
Yes, that's the plan.
Will you continue to cooperate with the Cairo Film Festival on films and guests?
Our intention was never to create issues for all the other regional festivals. We want to continue collaborating.
One of the unexpected big hits of the festival has been Indian films and stars who have come in. Hundreds of fans turned up for a glimpse of megastar Akshay Kumar, who participated in an in-conversation event, and there's excitement around the closing night world premiere of 83.
There is a Bollywood, Indian film following here, but there are still a lot of Saudis who are not at all familiar, whereas in the UAE, everyone is pretty much familiar with Bollywood, especially the Emiratis. The older generation of Saudis is familiar with it. They know our old films, the old actors and actresses. The younger generation is more Western-oriented. It's an interesting mix.
It's interesting then that the producers of 83 have opted to do the world premiere at the Red Sea given the anticipation about the film back home?
It's the first time that you're going to have a film like that have its world premiere outside the country. I think for them, it's also a new territory that is opening up. It was just about trying something new, and they were happy to give us the film and we're very excited to have it.