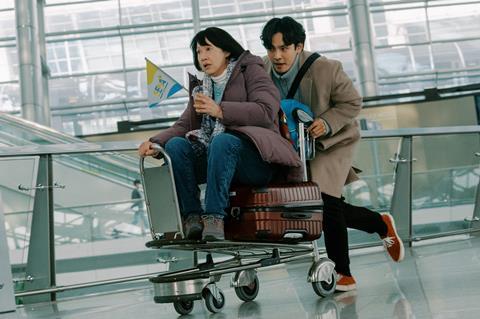 Beijing-based sales agent Rediance has boarded Ajoomma, a Singapore comedy drama directed by He Shuming and produced by Anthony Chen, set to premiere in Busan's New Currents competition.
Written by He and Kris Ong, it marks the filmmaker's feature directorial debut, following his Hainanese-language short documentary Letters From The Motherland, which was part of the 667 omnibus film that received its international premiere at Busan in 2017.
Producer Chen said: "It is especially fitting for our film Ajoomma to premiere at Busan as it is the first official Singapore-Korea co-production and so much of the film (85%) was shot in South Korea."
Chen who won Cannes Camera d'Or in 2013 with his feature directional debut Ilo Ilo serves as producer through his Singapore-based Giraffe Pictures with Korea's Lee Joonhan as co-producer.
Ajoomma follows a Korean-drama obsessed widow who travels out of Singapore for the first time and finds herself getting lost in Seoul. But her journey leads her to the road of self-discovery as she comes to terms with herself beyond the roles of daughter, wife and mother.
Singapore veteran TV actress Hong Huifang plays the lead. The Korean cast includes Jung Dong-hwan and Kang Hyung Suk from Korea, with an appearance by Korean star Yeo Jingoo (Hotel del Luna) as himself. Shane Pow from Singapore co-stars.
The film is supported by the Singapore Film Commission, Korean Film Council (KOFIC) and Seoul Film Commission in Korea. It is almost 20 years since a Singapore film last competed at Busan's New Currents, the main competition of South Korea's biggest international film festival.
Director He was conferred the Young Artist Award by the National Arts Council, one of Singapore's most distinguished honours for the arts, in 2019.