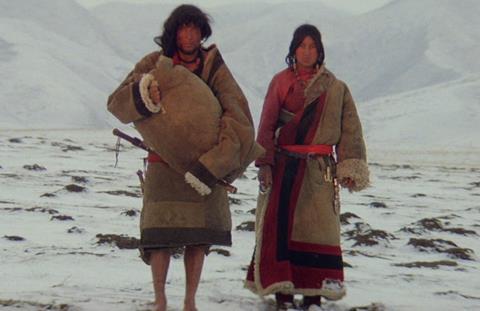 Beijing-based sales agent Rediance has picked up international rights to Tian Zhuangzuang's classic drama The Horse Thief, which is screening in Cannes Classics, and Bas Devos' Ghost Tropic, selected for Directors' Fortnight.
Tian's 1986 classic is being presented by Xi'an Film Studio and China Film Archive, with the latter organisation financing and over-seeing a 4K digital restoration. The Tibetan-language film tells the story of a tribesman who is sent into exile after he steals a horse to support his family.
Tian and the film's cinematographer Hou Yong worked on the restoration, which was made possible through the use of the original camera negative and the Tibetan audio track. Both Tian and Hou will be attending Cannes to present the film.
"Since the founding of Rediance, we have striven to promote Chinese classic films in the international market. Our collaboration with China Film Archive and Xi'an Film Studio has successfully brought The Horse Thief to Cannes," said Rediance co-founder Meng Xie.
"It is the first time for a Chinese film that is independently restored in mainland China to make it into the festival, bringing an exquisitely historical meaning to the film."
Ghost Tropic is the third film from Belgian filmmaker Devos following Violet (2014), which won the Jury Prize at Berlinale Generations, and Hellhole (2019), which screened in Panorama at this year's Berlinale
Starring Maaike Neuville, Nora Dari and Saadia Bentaïeb, Ghost Tropic is about a Moroccan woman who falls asleep on the last subway train. When she wakes up at the end of the line, she has no choice but to make her way home on foot.
Devos only started shooting the film, which was filmed "guerrilla-style" in Brussels, after this year's Berlinale, but has still managed to secure a slot in Cannes Directors' Fortnight. The film is produced by Belgian production companies Quetzalcoatl, 10.80 films and Minds Meet, with Belgium's Proximus and the Netherlands' PhantaVision as co-producers.