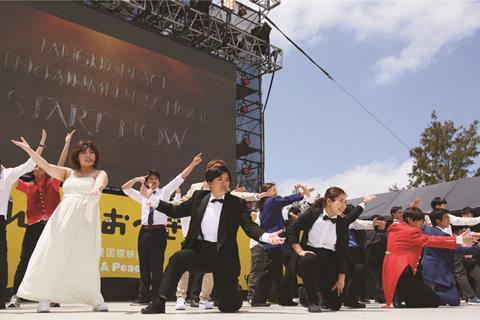 Japanese comedy Reon and China's In Pursuit Of The General were presented with the audience awards at the close of the 10th Okinawa International Movie Festival (OIMF, April 19-22) on Sunday night.
Directed by Renpei Tsukamoto, Reon follows a female office worker and an autocratic male CEO whose bodies are switched after a car accident. Teng Junjie's In Pursuit Of The General, a film version of a popular Peking Opera, won the audience award for a foreign-language film.
Reon played as part of OIMF's Special Screenings section, which also included Okami Kanata's Smokin' On The Moon, about two hapless drug dealers; Kan Eguchi's sports drama Riding Uphill, and a selection of classic movies. The section opened with a raucous screening of Indian blockbuster Baahubali 2: The Conclusion, during which local comedians encouraged the audience to shout and bang tambourines whenever the eponymous hero appeared.
In Pursuit Of The General played in the Special Invitation section, which also screened Toshiyuki Teruya's Born Bone Born (Senkotsu), Singaporean foodie drama Jimami Tofu; Indonesian blockbuster Dilan 1990; and Thai CG animation 9 Satra: The Legend Of Muay Thai, among other titles.
Jimami Tofu and Born Bone Born, which received its world premiere at OIMF, were both filmed in Okinawa, which uses the festival as a platform to promote local locations. The feature-length version of an award-winning short film, Born Bone Born is a comedy drama that explores the Okinawan custom of washing the bones of deceased relatives four years after their death. It will also play at the Moscow International Film Festival later this week.
Launched in 2009 by talent agency Yoshimoto Kogyo, OIMF has grown rapidly in its first ten years, drawing an audience of 250,000 and touring more than 40 cities in Okinawa prefecture, a string of islands in the far south of Japan. In 2015, the festival was expanded from being a film event to also encompass comedy, music, dance, sports and fashion.
In recent years, the festival has also been used as a springboard to develop the local entertainment industry. Earlier this month, Yoshimoto also opened a technical college in the Okinawan capital of Naha City – Laugh & Peace Entertainment School Okinawa – that teaches courses in production, performance, manga and computer graphics/animation. Guest lecturers at the college include manga writer Nobuhiko Horie, producer Shunsuke Koga (Hibana: Spark), actor Masi Oka (Heroes) and Broadway dancer Hinton Battle.
"In three years time, we'll have the first graduates from this school and we want to ensure they'll have a job in the entertainment industry in Okinawa," said Yoshimoto president Hiroshi Osaki. "Due to the political situation, Okinawa has often been dependent on aid from mainland Japan, so we want to build something to give them financial independence."
Other sections of festival's film programme included Local Origination Movies, Okinawa Historical Movies and Creators Factory for up-and-coming talents. Yoshimoto has also teamed with eight Japanese broadcasters, including NTV, TBS and Fuji TV, to produce eight made-for TV films, which also premiered at the festival.
OIMF has also teamed with the United Nations to help communicate messages from its Sustainable Development Goals (SDGs) initiative. As part of the tie-up, the festival hosted a competition, Jimot CM Republic, for 30-second videos that promote the attractions of the filmmakers' local communities.
The winning films, which were screened at the closing ceremony of this year's OIMF, were Yonabaru (Okinawa section), Kyotango, Kyoto (Japan section) and Nepalese Children And Their School (international section).