Resident Evil scares away $91m; Assassin's Creed debuts in third; February box office dipped approximately 13%.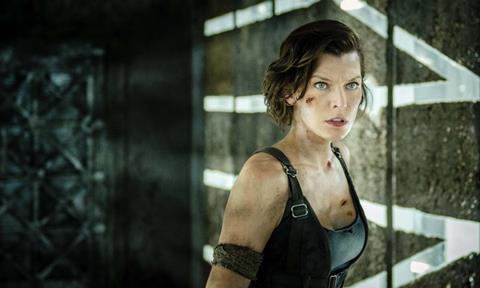 One month after the onslaught of Chinese New Year mega-blockbusters, Hollywood finally got to flex its muscles at the Chinese box office, delivering five top films in the week of Feb 20-26.
Leading the charge was Sony's Resident Evil: The Final Chapter, which stormed off with $91.70m from its three-day opening weekend, getting away with approximately 55% of the week's total box office. Since it opened on par with Captain America: Civil War, it is expected to achieve the same level of success as the latter's final gross of $180m (based on current exchange rate).
The sixth and final instalment of the Milla Jovovich-led zombie franchise significantly surpassed the combined run of its fourth and fifth instalments in China. It has also earned 3.5 times more than its North America's one-month gross.
Paramount's former table-topper xXx: The Return Of Xander Cage was pushed to a distant second place, with $18.55m. Its 17-day total of $152.08m has made it the first non-Chinese film to hit the RMB1 billion ($140m) mark this year.
Assassin's Creed debuted in third place overall with $16.79m from its first three days although it took the second place Friday through Sunday. While Resident Evil: The Final Chapter played far better in China than in North America, it was the other way round for New Regency's video game-based action adventure although the latter's box office almost doubled the former's in North America.
Illumination Entertainment's animation Sing climbed one place to the fourth with $11.73m for $23.65m after 10 days; ahead of La La Land's $5.95m for $30.35m after 13 days.
The rest of the chart was Chinese New Year holdovers except for The Game Changer: Kung Fu Yoga on $4.90m for $248.31m after 30 days; Duckweed on $4.67m for $147.70m after 30 days; The Game Changer on $3.21m for $12.68m after 17 days; animation Boonie Bears: Entangled Worlds on $1.2m for $73.23m after 30 days; Journey To The West: The Demons Strike Back on $1.08m for $236.11m after 30 days.
Last week's box office dropped approximately 5% compared to two weeks ago, while February dipped approximately 13% against the same period last year, making it the first month of negative growth this year.
Hollywood will continue to dominate the Chinese box office further as Logan, The Lego Batman Movie and A Dog's Purpose are all set for March 3 release.