UK film industry veteran was the founding CEO of British Screen and chairman of BAFTA; his credits included Comrades [pictured].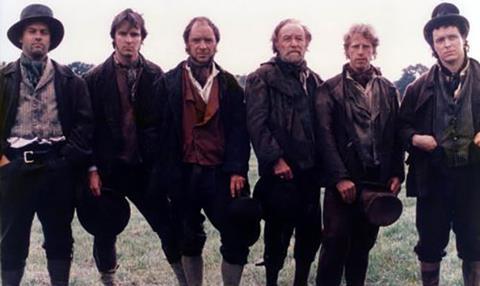 Respected UK producer and film industry figure Simon Relph has died at age 76.
The British Academy of Film & Television Arts (BAFTA), of which Relph was a former chairman, announced it was saddened to hear of his death.
Relph was born into cinema. He was the son of the prolific art designer, producer and writer Michael Relph, best known for his long-time collaboration with UK director Basil Dearden, and grandson of the celebrated English actor George Relph, a star of the stage and big screen.
At the time of his birth in 1940, his father was an art director at Ealing Studios, an activity which would eventually expand into producing and some 30 credits including The League Of Gentleman and the Golden Globe-nominated The Assassination Bureau.
Following in his father's footsteps, Relph also embarked on a career in the film industry.
Initially, he worked as an assistant or second unit director on some 20 films from the 1960s onwards, before seguing into producing in the early 1908s via the Warren Beatty-starring feature Reds on which he worked as an assistant producer.
He fully broke into producing with the creation of the production house Skreba, alongside Anne Skinner and Zelda Barron shortly afterwards
It kicked off its activities with Rebecca West adaptation The Return Of The Soldier starring Alan Bates, Julie Christie and Glenda Jackson. Its arduous funding route was something of a baptism of fire for Relph and his two business partners.
Around the same time, Relph also set-up Greenpoint with Ann Scott. As well as working with film directors and writers, it also tapped into the UK's rich TV and theatre scene. Early associates included Richard Eyre, David Hare and John Mackenzie.
Its credits included The Ploughman's Lunch, the Berlinale Golden Bear-winning Wetherby and Comrades.
Both companies were notable players in the independent art-house production scene in the 1980s.
Beyond his work as a producer, Relph is best known in the UK film industry for his staunch support of the domestic production scene as a whole.
He was the founding CEO of the film funding body British Screen Finance which was rolled into UK's now defunct Film Council in 2000.
The organisation - backed by United Artists Screen Entertainment, Channel 4 and Granada - was a pivotal funder of the UK film industry during the 1980s.
Under his five-year tenure - up until 1991 when he handed the baton to Simon Perry - the body backed some 60 films including Room With A View, Empire State, The Last Of England, A World Apart and Dream Demon.
After stepping down from British Screen, Relph continued to produce under the Greenpoint banner, with notable credits including executive producer on Enchanted April and co-producer on Louis Malle's Damage.
He was also chairman of Bafta as well as a governor of the UK's National Film and Television School (NFTS) and the screenwriters festival.
Among those paying tribute to Relph on social media was actor Phil Davis who referred to the producer as a "true gent".
So sad to hear that Simon Relph passed away this morning Producer of Comrades and countless other quality British films A true gent RIP

— Phil Davis (@PhilDavis6) October 30, 2016
UK film critic and BFI Southbank programmer-at-large Geoff Andrews described Relph as "a major figure in British film circles" who would be "greatly missed".
RIP Simon Relph Producer major figure in British film circles son of Michael and a very nice person indeed He will be greatly missed

— Geoff Andrew (@Geoff_Andrew) October 30, 2016