At this year's CineMart – Rotterdam's long-running co-production market – a significant revamp to the format has given the event "more energy" and has made it "more welcoming and convenient", according to attending delegates.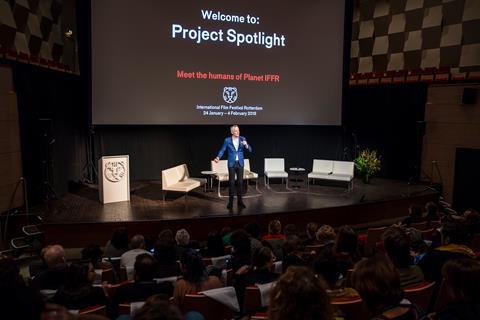 As Screen revealed last year, the event was streamlined for 2018, with only 16 projects chosen for this year's selection (down from 26 last year), and a more tailored approach was taken to pairing project teams with potential partners.
One key addition was the implementation of industry mentors who were assigned to the projects pre-festival to help them create the most effective strategy for the market. At the beginning of the event, the mentors took to the stage with the project teams to conduct a live interview (dubbed the Project Spotlight presentations) in front of all the attending industry delegates, which acted as an initial pitch ahead of the one-to-one meetings.
Speaking to Screen, Tassilo Hallbauer, sales and acquisitions executive from German company Beta Cinema, said that the Spotlight presentations had been a beneficial addition. "Before, in one-to-one meetings directors could pitch to you for 25 minutes and then you only get five minutes to talk," he commented, explaining that everyone getting to see the initial pitches had been a huge time save. He added that if a pitch caught the eye that hadn't stood out in the brochure, "the possibility was also there to make new meetings after the spotlight presentations."
Hallbauer added that he preferred the smaller selection, which meant he felt able to "really prepare" for the event and to "maybe even read some of the projects' scripts". However, he added that he also sees the benefits in a wide selection because of the large number of industry delegates that attend CineMart year on year.
Hallbauer has been attending Cinemart for six years now, and for him it is the quality of the projects that remain the primary draw, "It's one of the best project markets in Europe because of the quality. I think it's always very well organised and the team are super friendly."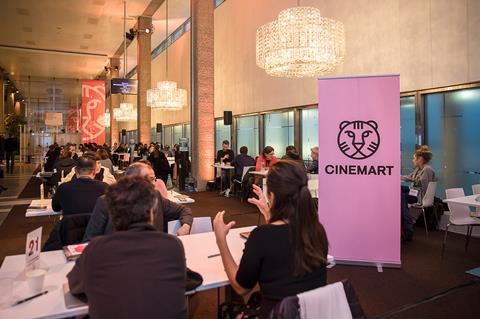 Another key addition was cutting down meeting times. Each meeting lasted 20 minutes, though teams were allowed to select five extended meetings with their most desired potential partners, which lasted 40 minutes.
Katriel Schory, executive director of the Israel Film Fund and a veteran of co-production markets, said that the new meeting format had "brought new energy and spirit" to the event. "The more focused and 'to the point' meetings may well lead to more concrete results," he predicted.
Charlie Bury, acquisitions manager at UK sales outfit Bankside Films, found that the reduced pool of projects improved his experience this year. "It forces you to be more selective in your approach," he said. "They all had elements that were interesting, so it makes you think about what you're really looking for."
Bury added that the Spotlight presentations worked because "you only get so much from an info sheet" and that in the pressured environment of public speaking "you notice what stands out from the crowd".
"There were projects that pitched which I hadn't pre-chosen that I now want to follow up with – its creating more engagement," he said.
On the producing teams side, Dan Cleland and Dean Loxton, attending CineMart with their UK feature Nathan Won't Ride, about a disaffected gay teenager who inherits his late brother's bicycle, also found the Spotlight initiative impressive. "It was great to be a part of the new format with the Spotlight presentations and to see all 16 filmmaking teams bringing their projects off the page and imaginatively to life," said Cleland. "The intense, speed-dating-style meetings with potential international partners opened up so many opportunities for collaboration."
"It's been a wonderful way to present my debut feature," added Loxton. The meetings have been brilliantly curated by the Cinemart team. It was a great opportunity to share a lot of information in a short space of time."
Marit van den Elshout, head of IFFR Pro and CineMart, believes the changes have been implemented successfully this year. "I'm very happy. The aim was to offer an even more curated selection of projects - projects we will most likely see back in festivals and cinemas in the near future."
"By preparing them more extensively for the participation in CineMart and curating their one-to-one meetings together with the teams and their mentors, we feel that they had effective meetings that can hopefully lead to concrete partnerships soon," she added.