Michael Fassbender to play two roles in upcoming sci-fi, Australian government to build on incentives.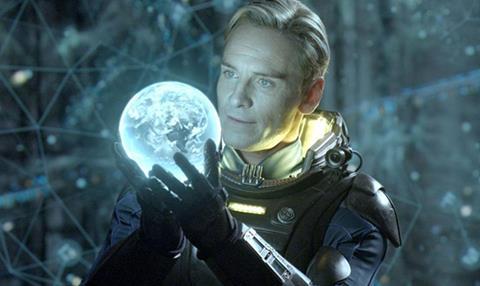 Ridley Scott will shoot at least one of his potential Alien origins trilogy in Australia.
Scott is currently in Australia scouting locations for the first of his Prometheus sequels, Alien: Covenant, which will shoot for 16 weeks at Sydney's Fox Studios Australia facility in March 2016.
The director provided new details about the film at a press conference held at the studio on Friday November 27, where he spoke alongside state and federal politicians, including Australia's foreign minister, Julie Bishop MP.
Scott explained that Covenant will pick up the sci-fi storyline where 2012's Prometheus ended, and is the first of a trilogy that will connect directly with his original Alien.
"Prometheus 1 was borne out of my frustration with Alien 1," he said.
"I never did any more because I don't normally do sequels but I was amazed with the three that followed, no one asked the question about the alien: Who made it and why?"
The new film will focus on the crew members of colony ship Covenant, who mistake a remote planet for an undiscovered paradise, until they encounter 'synthetic' David (Michael Fassbender), the planet's only occupant and the lone survivor of the ill-fated Prometheus expedition.
Scott explained that Fassbender will play two roles in the film, and that Prometheus star Noomi Rapace would return in a minor part. He said that casting of the Covenant crew roles is in the advanced stages, but declined to name names, saying "we haven't signed the contracts yet".
He confirmed that a number of Australians will feature in the cast – "I would always look for that; it's a natural thing to do," he said, adding, "Aussie actors are in my DNA".
Scott raised the prospect of working with his Robin Hood Maid Marion, Cate Blanchett again.
The pair had been set to work together on The Martian, until a scheduling clash made her unavailable and the role went to Jessica Chastain instead.
Scott's decision to film Down Under comes after the Australian Government amended its locations incentives for offshore production specifically for the film.
Scott had attended a location scout in Australia in May 2014, as part of an Ausfilm-sponsored excursion for international filmmakers, but he was underwhelmed by the 16.5 percent locations incentive.
Some 15 months later, he sought a meeting with Bishop and made an appeal to have the rebate system re-examined.
Taking the podium in Sydney, Bishop announced that the Federal Government would build upon recent amendments to Australia's locations offset, announced in October, by seeking permanent changes to the Income Tax Assessment Act in the May 2016 Budget.
"The opportunity to have a film of the stature of the next in the Alien series by a director of Sir Ridley's standing is not to be missed," Bishop said.
"I know the film industry here and abroad have been lobbying successive Australian governments for a very long time to make our tax arrangements more competitive and more attractive. For a long time there's been resistance on the part of the treasury and others to such a concept."
The October amendments to the Locations Incentive almost double the rebate from 16.5 percent to 30 percent. The changes bring it into line with the Post Production, Digital and Visual Effects Incentive (PDV).
"Our concern is that our Location Offset was less competitive than other countries," Bishop explained.
"We made the decision to increase ours to 30 percent, and this immediately generated a response from Twentieth Century Fox and Alien and Disney/Marvel and the Thor series with our own Chris Hemsworth."
The latter will shoot at the Warner Roadshow Studios on Queenland's Gold Coast in June 2016, and will be directed by Taika Waititi.
It is estimated that Covenant will create over 600 jobs for the local Australian screen industry. New South Wales Government data predicted that the film would contribute over AUD60 million (GBP28 million) to the state's coffers.
When asked about whether he would shoot all three origin films in Australia, Scott said: "That's the whole point. The key is bringing in a film that will employ upwards of 600 people. If this is successful it's already a nice flag to say let's do the next one [here]."
Location scouting is currently underway, with Scott on the lookout for "monumental forests and monumental rocks".
"The rest will be in studio with some formidable CGI," he added. Companies are expected to include Fuel VFX, part of the Animal Logic group.
Alien: Covenant is scheduled for release in October 2017 through Twentieth Century Fox.