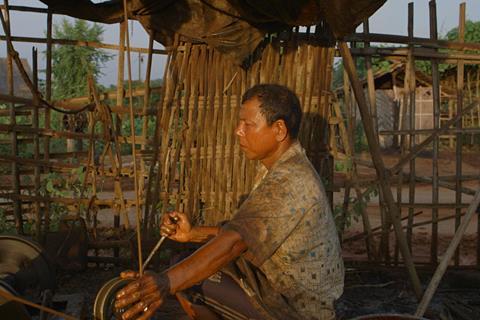 IDFA competition director Saeed Taji Farouky is developing a new fiction feature called Soon We Will All Be History Here, about a man in Gaza who rescues a wounded peregrine falcon and comes to believe it is the reincarnation of his sister.
The Jordanian Film Fund is already aboard the project which has been chosen to participate in next week's TorinoScriptLab. The producer is London-based Maria Caruana Galizia, of production outfit Candle & Bell, with whom Farouky has worked on some of his earlier dramatic shorts.
The Palestinian-UK is at International Film Festival Amsterdam (IDFA) this week for the international premiere in international competition of his latest feature doc, A Thousand Fires. Sold by Austrian outfit Square Eyes, it was shot in Myanmar just before the military coup of early 2020. It follows a about a married couple who make a living by drilling oil from their own makeshift oil field, located right outside their house.
A Thousand Fires is intended as the first part of a documentary trilogy of films about oil. In these documentaries, Farouky is trying to unpick the human stories behind the oil industry. The director hopes to shoot the second film in the Arctic.
"We have to go to further and further lengths to feed this voracious appetite for oil," the director noted. "The conditions are incredibly hard and getting permission to film is incredibly difficult."
Another oil producing area Farouky is looking to focus is Iraqi-Kurdistan.
"Oil creates immeasurable wealth but it also creates unimaginable destruction" the director notes. "There are countries that are the richest in the world and countries totally decimated by war because of the oil. In Iraqi Kurdistan, all of these things come together.
A Thousand Fires premiered at Locarno in the summer. Windmill Film Distribution is handling its Dutch release, due for spring 2022.
IDFA is running until November 28 in Amsterdam.