Denis Villeneuve to direct sci-fi sequel.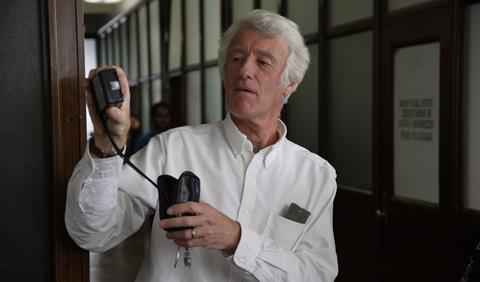 Cinematographer Roger Deakins will join director Denis Villeneuve on Alcon Entertainment's Blade Runner sequel
Deakins, who will be presented with the Pierre Angénieux Excellens in Cinematography Award at the Cannes Film Festival tomorrow (May 22) reteams with Villeneuve.
It marks their third feature collaboration, having previously worked together on Prisoners and Sicario, which is in Competition at Cannes.
Deakins received his latest Oscar nomination this year for his work on Angelina Jolie's Unbroken. He was previously nominated for Joel and Ethan Coen's Fargo, The Man Who Wasn't There, O Brother, Where Art Thou?, No Country for Old Men and True Grit; Frank Darabont's The Shawshank Redemption; Martin Scorsese's Kundun; Andrew Dominik's The Assassination of Jesse James by the Coward Robert Ford; Stephen Daldry's The Reader, which he shared with Chris Menges; and, more recently, Prisoners and Sam Mendes' Skyfall.
Film is scheduled to start principal photography in summer 2016. Hampton Fancher (co-writer of the original) and Michael Green have written the screenplay based on an idea by Fancher and Blade Runner director Ridley Scott.
The story takes place several decades after the conclusion of the 1982 original. Harrison Ford will reprise his role as Rick Deckard.
Alcon Entertainment acquired the film, television and ancillary franchise rights to Blade Runner in 2011 from producer Bud Yorkin to produce prequels and sequels to the iconic science-fiction thriller.
Yorkin will serve as a producer on the sequel along with Kosove and Johnson. Cynthia Sikes Yorkin will also produce.
Frank Giustra and Tim Gamble, CEO's of Thunderbird Films, will serve as executive producers. Ridley Scott will also executive produce.
Deakins is repped by ICM.