Lion and Una star talks immersive roles, and the potential for a Dragon Tattoo sequel.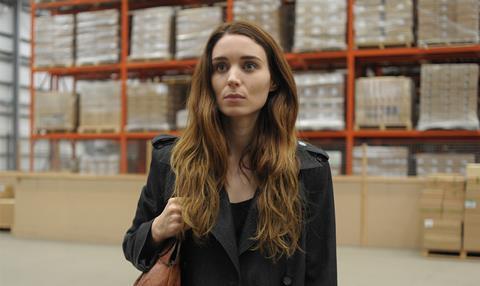 Two-time Oscar nominee Rooney Mara is no stranger to challenging roles. From The Girl With The Dragon Tattoo's Lisbeth Salander to Carol's Therese Belivet, the actress certainly doesn't shirk intensity.
Her latest projects are no different. The actress starred in three films at the Toronto International Film Festival: emotionally charged true story Lion, harrowing abuse drama Una and affecting romance The Secret Scripture.
As the well-received Lion gets its European premiere at Zurich Film Festival this week, the actress is currently preparing to star in prestige biopic Mary Magdalene opposite Joaquin Phoenix as Jesus.
"It's a huge undertaking," admits the New York native. "But I'm happy to have something to throw myself into it. I find it more of a challenge if it's not something I can immerse myself in. I like that kind of work."
The film will reteam Mara with Australian director Garth Davis, whose powers of persuasion came to bear on their first collaboration, Lion, the remarkable true story of an Indian man reunited with his family after a 20 year absence.
"It was the story and script which attracted me," admits Mara, who plays the girlfriend of Dev Patel's character in the movie. "I wasn't planning on working at that time but it was such a beautiful story I really wanted to be a part of it. When I spoke to Garth I felt connected with him and I really wanted to work with him."
Dark places
Mara joined up with another Australian director ["I find most of the best talent comes out of Australia," she asserts], Benedict Andrews, on searing theatre adaptation Una.
The actress plays a young woman haunted by the sexual abuse she suffered aged 13.
"Una was a very challenging and intense five weeks of shoot," she admits. "I had to go to some dark places. But I had been thinking about it for 8 years, since seeing the play, so it was something I really wanted to do."
"The great thing about the piece is that it opens up a dialogue. It doesn't tie things up in a neat package. It's not putting people in categories. It's very complicated."
Screen's critic described the eponymous Una as inhabiting "a daunting male environment". Given that none of the 15 movies the actress has starred in during the six years since her breakthrough have been directed by a woman (and only one has been written by a woman) does the actress feel the same about Hollywood?
"I think that's how it feels to be in the world. It is a dauntingly male environment. Someone asked me about Una being directed by a man and written by a man. I never even questioned that. That's the world I live in. It was my responsibility to portray the female and how that world has affected this woman."
Sicily-bound
Despite the acclaim for her three performances this autumn, in particular for Una, the actress doesn't see herself as part of this year's Oscar race:
"I'm heading to Sicily to shoot Mary Magdalene. I don't feel like I'm going to be part of the awards this year, thankfully. It's a daunting, exhausting time."
The actress got her first Academy Award nomination in 2011 for David Fincher's adaptation of The Girl With The Dragon Tattoo. Would she still like to do a sequel to the film on which she worked for more than a year?
"Yes, I'm still open to it but I'm not holding out hope any more."