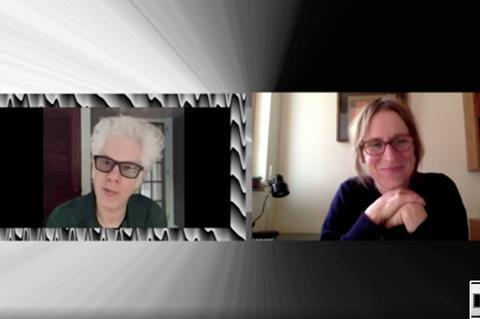 Todd Haynes and Jim Jarmusch were among the friends and collaborators who joined the Rotterdam International Film Festival's online tribute to Kelly Reichhardt as she received its fledgling Robby Müller award last week.
In its second edition, the prize was launched last year in memory of late Dutch cinematographer Müller, whose credits included Paris, Texas, Breaking The Waves and numerous collaborations with Jarmusch, including Mystery Train, Dead Man and Coffee And Cigarettes.
It celebrates a director of photography, filmmaker or visual artist who "in the spirit of the late Robby Müller has created an authentic, credible and emotionally striking visual language".
Reichardt took time out of her awards season schedule for First Cow to take part in an online awards ceremony and talk about her career. She revealed she had studied the body of Müller's work when she was starting out as a filmmaker.
"You're just watching his films and trying to figure out that connection, [between] what you dream and what you can actually capture… that being able to get between something that brings you down to earth and at the same time takes you somewhere else beyond reality," she said.
Reichhardt has long-time connections with Rotterdam having won its Tiger award there in 2006 for her second feature Old Joy.
One of the many positive outcomes of the prize, she revealed, was getting its producer Neil Kopp to commit to her next film.
"Right in the moment when we won, I wrote on a napkin to make him agree to make the next film with me and got him to sign," she recalled. "So that was part of the prize, getting a commitment from one of the producers that they would stick with me."
Müller collaborator Jarmusch said it was fitting that Reichardt was being feted with the award.
"Through all of your films, [from] your very beautiful first feature film River Of Grass straight through to your most recent film First Cow, which I personally consider to be a real a masterpiece of quiet, unpretentious story-telling, throughout in some intuitive way you have perfected your own striking style," he said. "I feel strongly that Robbie would have loved First Cow, so it's very appropriate that you receive this award in his name."
Reichardt responded with a surprised "Gee-whizz" on watching his short video tribute. She went on to recount that Jarmusch's 1984 film Stranger Than Paradise had been a source of inspiration to her as a young art student trying to find her way in filmmaking.
"I'd made a small film and someone booed it at class. I went and saw Stranger Than Paradise… I felt redeemed somehow and I decided that Jarmusch would have been okay with this film," she said.